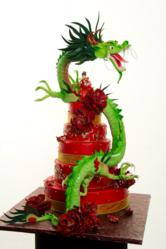 Las Vegas, Nevada (PRWEB) November 02, 2012
The Las Vegas Pastry Palace recently announced that it is now providing customized wedding cakes making it possible for brides and grooms who are getting married in the area to begin their life's journey with the cake of their dreams.
The owners of the Las Vegas Pastry Palace, which serves the Las Vegas area and its surrounding communities, now provides specialty wedding cakes designed to the exact specifications of the bride and groom.
Recognizing the importance of the wedding cake as an integral part of this type of celebration, the Pastry Palace has decided to offer customized designs. Since they are continually motivated by trying to outdo themselves every time, they figured that including unique wedding cake designs is a natural progression for their establishment.
Their ability to make everything from deluxe buttercream frosting to elegant cakes baked from a special recipe has given rise to their reputation as the home of the finest cakes in Las Vegas. The owners believe that "There are no rules when it comes to wedding cakes. They do not have to be white with white frosting anymore. We can create wedding cakes that match the bride's vision, delivering an exceptional masterpiece that belongs in that special moment at this exceptional point in her time."
The owners of the Las Vegas Pastry Palace invite engaged couples to allow them to help create a special memory for their momentous occasion as they craft a unique wedding cake using the couple's drawing, photo, or narrative about the design. Their promise to "deliver the lasting memory of a fantastic wedding cake crafted with precise attention to detail and style," reflects their time-honored tradition of meeting every customer's expectation.
Located in Las Vegas, Pastry Palace is a family owned bakery that specializes in creating one-of-a-kind wedding cakes,elegant pastries, and custom cakes of all kinds. Each creation is made completely from scratch and baked fresh without the use of artificial ingredients or preservatives. The staff prides itself on the provision of prompt, courteous, personalized service.
Pastry Palace
4523 West Sahara Avenue
Las Vegas, NV 89102
info(at)PastryPalaceLV(dot)com
702.251.1555
Pastrypalacelv.com
###