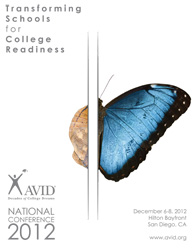 "AVID's National Conference renews my motivation to support every student on their path to college."
San Diego, California (PRWEB) November 07, 2012
AVID (Advancement Via Individual Determination) will bring educational leaders together to discuss equity and college readiness efforts at its annual National Conference, Transforming Schools for College Readiness. The event, December 6-8, 2012 at the Hilton Bayfront in San Diego, California, is a forum to discuss and share best practices on opening access to rigorous curriculum for all students.
Over the past decade, thousands of educators and leaders have attended AVID's National Conference to focus on raising student achievement and college access for all. This year's National Conference is another opportunity for superintendents, school board members, administrators, and teachers from across the nation to gain insights and collaborate with each other as they work to ensure all students are prepared to be successful in college.
Wes Moore, a youth advocate and the bestselling author of the book, The Other Wes Moore, will be the keynote speaker at the opening session, and Consuelo Kickbush, who became the highest ranking woman in the Army's Combat Support Field, will speak at the breakfast banquet session. The conference will also feature a panel of student speakers.
In addition, breakout sessions led by some of the country's leading experts will focus on:

21st Century Skill and STEM Initiatives
Acceleration and Rigor
AVID's College Readiness System
Common Core Standards
Equity
Advancing the AVID Elective
Leadership for College Readiness
For more information on the conference, visit http://www.avid.org.
ABOUT AVID
AVID is a non-profit, proven college readiness system that closes the achievement gap. Today, AVID is implemented in approximately 4,900 schools in 45 states and 16 countries/ territories; AVID impacts more than 700,000 students in grades K-12, as well as students in 28 institutions for higher education. The AVID College Readiness System transforms a school's academic culture to increase the number of students who enroll in four-year colleges and succeed in postsecondary education and training.