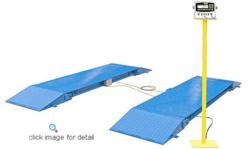 Olive Branch, Mississippi (PRWEB) November 02, 2012
Law enforcement officials all over the United States are utilizing new technologies to help fight crime. From using military drones for surveillance to the compact remote controlled robots that are used to scout potentially dangerous areas – law enforcement officials are using technology to reduce costs, risk, and improve safety. So when it comes to enforcing laws in public areas like highways, it shouldn't be too surprising that law enforcement officials are using the most advanced technologies available to improve safety and enforce the law.
One tool officers all around the country use is that of mobile weigh stations. These mobile weight stations are fully equipped with axle scales and are used to weigh semi-trucks that are transporting loads via the highway. These new law enforcement tools assist officials with implementing load restrictions and issuing fines for those who are in violation of the law.
Overloaded trucks around the world have been the direct cause of bridge collapses, fatal auto accidents, and a countless number of traffic jams as a result of a vehicle rolling over. Overloaded truck trailers put extra strain on a vehicle, which increases stopping time and makes driving more dangerous for everyone on the highway.
Additionally, almost all of the pavement damage on the highway is caused by semi-trucks. In fact, it would take 9,600 cars to do the same damage that one correctly loaded semi-truck can potentially cause. If a correctly loaded truck can do that much damage, it shouldn't be surprising that overloaded trucks cause massive but totally preventable damage to public highways. These damages end up costing tax payers millions of dollars in maintenance and repair fees every year.
Law enforcement officials hope that by using mobile truck scales the proper authorities will be able to crack down on load violators. By utilizing more mobile and technologically advanced tactics, law enforcement officials will have greater reach with reining in law breakers and helping save lives and tax dollars.
Mobile truck scales give law enforcement officials greater range when it comes to enforcing load restrictions. Currently, the most effective and common method of enforcing load restrictions is through a checkpoint system known as weigh-stations. Weigh stations are typically equipped with one or more pairs of axle scales that are used to weigh a vehicle and its payload. However, some weigh stations aren't open every day, which means that at least some violators get away undetected. Law enforcement officials hope that by utilizing mobile truck scales, these undetected violators will be reined in and punished for their crimes.
Floor Scales Direct, a division of Triner Scale, provides its customers with a wide variety of truck scales that can be used to accurately weigh freight loads. With the right scale, the trucking industry won't have to worry about overload fees ever again. Scale prices are affordable and units are available for immediate purchase. Visit the Floor Scales Direct website at http://www.floorscalesdirect.com for more information.