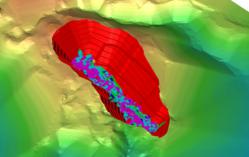 "By achieving a Gold competency, partners have demonstrated the highest, most consistent capability and commitment to the latest Microsoft technology," said Jon Roskill, Corporate V.P., Worldwide Partner Group at Microsoft
Denver, CO and Vanvcouver, Canada (PRWEB) November 28, 2012
Leading provider of intuitive software solutions to the mining and exploration industry, MICROMINE has recently received two highly-regarded sets of software accreditations from Microsoft.
For the second year in a row, MICROMINE has been awarded Microsoft Gold Partner Certification as an Independent Software Vendor. In order to achieve this, the company's flagship geological exploration and mine design solution, Micromine, has been certified Windows® 8 Compatible.
Gold Partner Certification is recognition from Microsoft that MICROMINE's software solutions are of the highest possible quality in the global marketplace.
MICROMINE CEO Kevin Fitzpatrick stated, "We are really pleased to have been awarded this certification, particularly for two years in a row. A significant amount of work is required to achieve this, and should prove to be a tremendous asset to our clients who are the recipients of MICROMINE's highly awarded technical expertise."
In achieving this certification as an Independent Software Vendor, MICROMINE was required to demonstrate excellence in technical expertise and outstanding experience in the field of information technology.
"By achieving a Gold competency, partners have demonstrated the highest, most consistent capability and commitment to the latest Microsoft technology," said Jon Roskill, Corporate Vice President, Worldwide Partner Group at Microsoft Corp. "These partners have a deep expertise that puts them in the top 1 percent of our partner ecosystem, and their proficiency will help customers drive innovative solutions on the latest Microsoft technology."
Following being certified Windows® 7 compatible, the company's Micromine solution has been tested to meet all of the technical requirements to receive compatibility certification, and then become certified Windows 8 compatible.
Scott Pleiter, Software Development Manager, Micromine says, "Since the first versions of Microsoft Windows operating systems, we have strived to ensure our product has been at the forefront of compatibility. Now that Micromine 2011 is Windows 8 compatible, and appears in the Windows Compatibility Centre, our customers can upgrade with the confidence that our software will not require any compatibility configuration to work correctly on Windows 8."
The Micromine solution allows for the capture, management and interpretation of critical mining and exploration data. It provides an in-depth understanding of projects so prospective regions can be targeted more accurately, increasing the chance of a project's success.
# # #
About MICROMINE
With over 12,000 clients in more than 90 countries, MICROMINE is a leading provider of intuitive software solutions for the entire mining process. MICROMINE understands the software and consultancy needs of exploration and mining operations around the world. Located in 21 of the world's major mineral producing capitals, our team is close to your operation. This means MICROMINE can provide local support and services in your language and time zone. MICROMINE's intuitive solutions are delivered by a team of specialists who understand the software and how it can be integrated into an operation for maximum results.