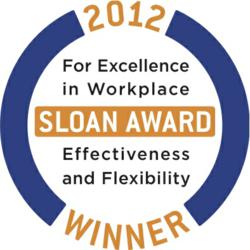 capSpire offers motivational perks like flex time, unlimited vacation, work-from-home options and a relaxed office culture.
Tulsa, OK (PRWEB) November 01, 2012
While the issue of work-life balance plays out in the national employment arena, a Tulsa company has been recognized for its innovative ideas to help employees balance family and career. capSpire, a global commodity trading and risk management consulting and solutions firm, was awarded the prestigious 2012 Alfred P. Sloan Award for the company's use of creative ideas to help employees achieve the best of both worlds -- a quality family life along with a satisfying career.
The Sloan Award for Excellence in Workplace Effectiveness and Flexibility ranks capSpire as one of the top 20 percent of employers on a national level when it comes to policies, programs and culture that create a flexible workplace. Since capSpire's inception in early 2009, the company has offered its employees motivational perks like flex time, unlimited vacation, work-from-home options and a relaxed office culture.
"We ask our employees to think outside-the-box, so it's only natural that we do the same thing when it comes to our office and culture. We try to create an environment where people can continually grow their skills and make their own day-to-day decisions that are in the best interest of both the employee and our company. This award recognizes all the hard work put into creating that special environment," says capSpire co-founder Jeff Hardcastle.
capSpire is located in downtown Tulsa and recently announced plans to hire thirty additional employees over the next three years. Recruiting is already underway to fill a variety of open positions within the company's downtown Tulsa office, located at 11 East 5th Street.
All Sloan Award recipients are evaluated in a rigorous two-step process. Employers' flexibility practices are compared with national norms from Families and Work Institute's National Study of Employers. Employees are also confidentially surveyed on their access to flexible work options, the supportiveness of the culture and on nationally tested measures of workplace effectiveness.
For more information about the Alfred P. Sloan Awards for Excellence in Workplace Effectiveness and Flexibility visit http://www.whenworkworks.org
About capSpire
capSpire is a global consulting and solutions company serving the Commodity Trade and Risk Management sector of the energy industry. Headquartered in the growing technology hub of Fayetteville, Arkansas, with an office in Tulsa, Oklahoma, capSpire has served over two dozen clients across North America and Europe. capSpire provides its clients with deep business and system expertise to simplify and streamline its commodity management functions for crude, natural gas, refined products, NGLs, coal, iron ore, agriculture and freight. Chief among its service offerings are IT strategy and planning, system selection, bespoke software development, implementation services, systems integration and ongoing support. Visit http://www.http://www.capspire.com for more information.
About When Work Works
When Work Works is a national initiative, led by the partnership of Families and Work Institute and the Society for Human Resource Management (SHRM), to help businesses of all sizes and types become more successful by transforming the way they view and adopt effective and flexible workplaces. When Work Works is one of the foremost providers of resources, rigorous research and best practices on workplace effectiveness and flexibility in the nation. The initiative administers the prestigious Alfred P. Sloan Awards for Excellence in Workplace Effectiveness and Flexibility annually, which recognize exemplary employers for using flexibility as an effective workplace strategy to increase business and employee success.