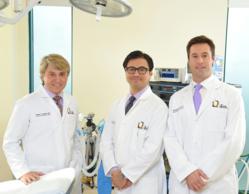 Belotero is a hyaluronic acid-based injectable filler, much like Juvederm or Restylane. FDA approved in 2011, the gel is said to temporarily add volume to the skin and give a smoother appearance. -Dr. Russell Sassani
Fort Lauderdale, FL (PRWEB) November 30, 2012
Take Shape Plastic Surgery of South Florida will now be offering Belotero Balance, the recently FDA approved filler for moderate to severe facial wrinkles. It is a new variant of hyaluronic acid and claims to significantly reduce the "lumpiness" side effects that can occur sometimes with other fillers on the market. The physicians of Take Shape Plastic Surgery in Fort Lauderdale, Russell Sassani MD, George Dreszer MD, and Christopher Low MD, will be utilizing Belotero Balance as part of their armetarium for the treatment of static wrinkles or "rhytids" and volume loss in facial areas such as lips, cheeks, and nasolabial folds.
Dermal fillers have been referred to as "liquid facelifts" because they offer many of the benefits of a surgical facelift without the associated downtime. These soft tissue fillers can add more volume to restore the youthful appearance to your face and soften the facial wrinkles and creases. They provide an immediate result at a lower cost than surgery. However these treatments are not permanent and they must be repeated and maintained.
Belotero's unique qualities set it apart from its competitors. It is the first monophasic hyaluronic acid filler to incorporate cross-linking technology which allows uniform particle size during manufacturing. This technology creates a thinner substance that spreads more uniformly and more easily when injected. This also allows the product to be injected in a more superficial plane.
Since Belotero can be injected superficially, it is ideal for applying to fine lines near the lips, eyes, and forehead. The other hyaluronic based fillers are used cautiously when injecting superficially since this may result in skin discoloration know as the unwanted Tyndall effect. The one drawback of Belotero is that it does not work as well as a volumizer since it can disperse when injected at a deeper subdermal plane.
Significant advances in technology have given the Plastic Surgeon an array of filler options. However, there is no filler that can address every patient's concerns. The physicians at Take Shape Plastic Surgery, P.A., will address each patient's desires in detail and develop a treatment plan that is tailored to their individual needs. Drs. Sassani, Low and Dreszer are experts at using Belotero in Fort Lauderdale to rejuvenate the aging face, making it look fuller, with more toned skin and improved deep and moderate wrinkles.
In addition to cosmetic procedures, Take Shape Plastic Surgery, P.A., also offers a wide array of major cosmetic surgery including facial aesthetic surgery, body contouring, and breast augmentation in Fort Lauderdale. The center also offers extensive reconstruction of the face and body after cancer or trauma.
Also on premises is Take Shape Surgery Center, L.L.C., a Medicare-certified, state-licensed and nationally-accredited, ambulatory surgical center. This facilitates offers a more personalized, convenient and comfortable experience for patients.
Patients can be assured that the plastic surgeons at Take Shape Plastic Surgery, P.A., possess the skills, training, and aesthetic eye to ensure that the patient's desired cosmetic result becomes a reality and that reconstruction patients achieve the best possible outcome.
For more information those interested can call Take Shape Plastic Surgery, P.A., at 954-585-3800 or visit them on the web at http://www.takeshape.info. The clinic Take Shape Plastic Surgery in Plantation is located at 4161 N.W. 5th Street.