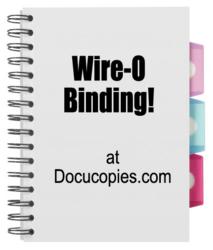 The Wire-O binding option really stands out above the others to give the books that 'wow' factor.
HUDSON, WISCONSIN (PRWEB) November 05, 2012
Docucopies.com have again added to their line of products and services after reviewing the huge selection of technologies and equipment exhibited by industry vendors at Chicago's Graph Expo early last month.
Most significant is the addition of Wire-O binding to their book-binding options. This method uses a looped metal wire to fasten pages together, which the management believes will make their book printing services more enticing to a new segment of customers.
"Many people want their books to have the durability and lifespan of our spiral binding but with a more sophisticated look and feel than the typical plastic coils provide," says Marketing Director and Vice President Jeff Corbo. "The Wire-O binding option really stands out above the others to give the books that 'wow' factor."
The management is still installing the equipment, working out the pricing and integrating the service into their website, but they expect to have the Wire-O binding option available by the end of November.
The team at Docucopies.com gladly welcome their customers' comments and suggestions for new products and services, as well as feedback on how they can improve upon their current offerings. For example, earlier this year they began offering multiple colors of spiral binding in response to customer demand.
"Keeping an open dialog is the only way we can know for sure what's working for customers, what isn't working and what we can do to make their experience with us better," says Corbo.
For more information on Docucopies.com and their color copies, books, booklets, brochures, posters, postcards and other digital color printing services, visit them online at http://www.Docucopies.com or call 877-222-4842. Suggestions for products and services can be directed to info(at)docucopies(dot)com.
###