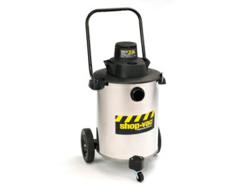 Quincy, MA (PRWEB) November 02, 2012
Regardless of the size of the mess to clean-up, whether it's carpet drying or cleaning a flooded home or basement, eVacuumStore.com will now offer the necessary tools at a discounted rate for those affected by the storm. From Dustless to Koblenz to Shop Vac, eVacuumStore.com carries a wide variety of wet and dry vacuum brands specifically for home cleanup in the aftermath of the storm. The smaller, more portable vacuum cleaners work great for smaller messes in a home or small business. Sales associate Zachary Currier says, "These smaller wet and dry vacuums are the perfect choice when the good ol' mop and bucket simply will not cut it."
For those huge messes and room flooding that require some serious power, eVacuumStore recommends an industrial grade wet/dry vacuum or the use of commercial air movers. According to the company, these industrial vacuum cleaners are a double threat because they can suck up flood water and store it in a tank, before also pumping it out. With the proper hosing and accessories, these powerful machines can clear out a flooded home or office with minimal time or effort. "Hurricane Sandy has caused unprecedented havoc all along the coast, leaving millions in difficult situations. We can't reverse the damage, but at least these powerful wet and dry vacuums can help to clean up the mess," says storm analyst Paul McAlarney,
It'll take a long while to move on from this natural disaster—and for things to get back to normal. According to some sources, the relief effort required will actually be greater than that of Katrina's. All of those in the effected regions have a long road to recovery, but thankfully, companies like eVacuumStore are glad to lend their support to the cleanup effort.
About eVacuumStore.com:
Founded in the early 2000s, eVacuumStore.com is the largest online retailers of vacuum cleaners, repair parts and accessories. The site was built around customer service and the idea of offering the detailed parts diagrams and schematics that were once only available to official warranty centers to the consumer to fuel Do-It-Yourself vacuum cleaner repairs. For more information on industrial grade cleaning equipment, visit eVacuumStore.com.