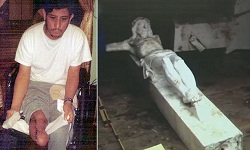 Every property owner has the legal responsibility to ensure that his or her premises are safe for visitors, tenants and/or guests.
Newport Beach, CA (PRWEB) November 01, 2012
David Jimenez, 45, has filed a lawsuit (Case Number: 009211/2010 filed in Orange Civil Supreme) against the Church of Saint Patrick in Newburgh after a large marble crucifix at the church fell on top of him and crushed his leg causing it to be amputated. According to an Oct. 26 CBS news report, Jimenez prayed for his wife Delia's health at the crucifix after she was diagnosed with ovarian cancer. When she got better, Jimenez volunteered to clean the marble crucifix as a way to thank the church, the report said. But, on Memorial Day of 2010, as Jimenez started scrubbing the crucifix, it toppled over and crushed his right leg, the article states. Doctors determined that his leg was so badly injured that it required to be amputated. Jimenez was unable to work after the incident, the CBS report states.
Although fellow churchgoers collected food and $7,000 for Jimenez and his family, the church's insurance company did not offer a fair settlement prompting Jimenez's $3 million lawsuit, according to the report. The lawsuit alleges that the church's priest was negligent in allowing Jimenez to go near the crucifix and that the 600-pound statue was held in place by one screw in its base without a proper anchoring system. The crucifix has since been removed from the church and has been moved to another parish, the report states.
"My heart goes out to David Jimenez who has been catastrophically injured as a result of this incident," said John Bisnar, founder of the Bisnar | Chase personal injury law firm. "He and his family will be in my thoughts and prayers."
Bisnar says that every property owner has the legal responsibility to ensure that his or her premises are safe for visitors, tenants and/or guests. "When a dangerous condition on the property causes or contributes to an injury, then, the property owner can be held liable. Victims such as David Jimenez who suffer life-changing injuries may be compensated for medical expenses, lost earnings, lost future income, loss of livelihood and pain and suffering."
About Bisnar | Chase
The Orange County personal injury lawyers of Bisnar | Chase represent victims of nursing home abuse and neglect, auto accidents, defective products, dangerous roadways, and many other personal injuries. The firm has been featured on a number of popular media outlets including Newsweek, Fox, NBC, and ABC and is known for its passionate pursuit of results for their clients. Since 1978, Bisnar | Chase has recovered millions of dollars for victims of serious personal injuries.
For more information, call 800-561-4831 or visit http://www.orange-county-lawyers.com for a free consultation.
Source:http://newyork.cbslocal.com/2012/10/26/deeply-religious-newburgh-man-crushed-by-falling-crucifix-loses-leg/