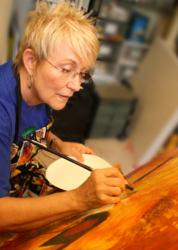 Scottsdale, AZ (PRWEB) November 02, 2012
The artist's journey to the Expo starts with the cooling of the desert. A majority of the artists only exhibit at the EXPO and bring with them every art medium from across the nation. Whether award winning, nationally recognized or emerging, they head west to make the Sonoran desert their home for 74 days, uniting with their fellow artists.
Starting in December, 44,000 square feet of tent goes up to house more than 100 artists, a Marketplace and a 2-acre sculpture garden that will host live entertainment, garden parties and a gala.
Produced by award-winning Thunderbird Artists, the Arizona Fine Art EXPO is a family owned and operated art show that loves and believes in our country and the art communities within the United States. They encourage the purchase of art that is made in America. With the art market flooded with imported copies, the EXPO provides patrons with the knowledge and security of purchasing the real thing!
The readers of American Style Magazine ranked Scottsdale #17 in the top 25 art destinations amongst mid-sized cities. The readers of Experience AZ magazine rated thunderbird Artists the top 5 art destinations.
The Arizona Fine Art EXPO has art for every patron's palette. From style; Contemporary, Modern, Realism, Southwest and Abstract, to a huge selection of mediums; painting, sketching, rapidograph pen cross-hatching, etching, pastels and charcoals on canvas to sculpting clay, metal-smithing and one of a kind jewelry, wood sculpting, stone carving, furniture and much more. Subject matters range from contemporary to cowboys, abstract to animals, landscapes to figures, from subtle in colors to the most vivid. Commissions always welcomed.
The EXPO's patriotism comes as no surprise that they would also be home to a veteran charity, the American Healing Arts Foundation (AHAF). AHAF gives veteran's gratis art classes and art therapy throughout the EXPO's ten-week event. Post-traumatic Stress Disorder (PTSD) and Traumatic Brain Injury (TBI) remain high for both wounded and uninjured soldiers, plus suicide and divorce rates continue to soar. Art is proven to be a great form of therapy. These classes give veterans the chance to witness their own creative side, exercise the power of rehabilitation, and reunite veterans with their fellow comrades away from hospitals and the battlefields in a peaceful environment. The EXPO has taken their devotion for our troops so seriously that they are donating one dollar out of every $10 season pass to the Foundation and the great American Veterans.
PARTICIPATING ARTISTS:
Olga Alexandrova, Ernie Apodoca, Guadalupe Apodoca, Kelly Athena, Carlos Ayala
Kim Ballard, Dave Barkby, Arthur Benjamins, Dwight Bennett, Craig Bergsgaard
Nancy Bernesser, Janet Blumenthal, Jane Boggs, Jeanne Bonine, Suzanne Brown
Robert Burt, Susan Quin Byrd, Sandi Ciaramitaro, Jacqueline Cohan, Bob Coonts
Travis Crowther, Keith Dabb, Keith Dagley, Jess Davila, Gene Dieckhoner, Scott Donars
Cynthia Downs-Apodaca, Jelena Eros, Steve Failows, Phil Feaster. Marless Fellows
Caroll Forseth, Tom Fuller, Mike Gardner, Jessica Garrett, Diana Gilmore,
Susan Hartenhoff-Haygood, Joy Hartl, Christine Hauber, Dan Haygood, Larry Hayworth,
L.C. Herst, Charles Huckeba, Beth Hyatt-Rapp, Lorene Ireland, Ben Kinne, Greg Kinne,
Lauren Knode, Caroline Kwas, Jeff Laing, Donna Levine, Daniel Long, Kelby Love,
April MacQueen, Tom Martin, Marlan Masteller, Walter Melnikow, Betsy Montoya,
John Montoya, Lynnette Moody, Lara Moore, J.F. Mortenson, Dick Mueller,
Stephen Mueller, Loretta Musgrave, Lori Myers, Jason Napier, Marlene Pardi,
Isabelle Posillico, Leo Posillico, Gary Robertson, Bill Shaddix, Heather Soderberg,
Misty Soderberg, Pat Stacy, Debra Steidel, Hal Stewart, Ron Stewart, Matt Suess
Wei Tai, Charles Taube, Sam Thiewes, TJ Thompson, Dave Venell, Willi Waltrip,
Scot Weir, Roger Wermers, Scott Wallis, Victor Yurivilca.
WHAT: Watch Art made in America, by award winning, nationally recognized and emerging independent artists. Artwork is exhibited and for sale. Commissions welcomed.
Featuring paintings, charcoals and pastels, etchings, rapidograph pen cross-hatching, drawings, photography, stone, copper, clay, wood, metal sculptures, bronzes, jewelry
and more.
WHEN: Everyday of every week, January 19th thru April 1st, 2012. Open from 10am until 6pm, daily.
WHERE: Arizona Fine Art EXPO, 26540 N Scottsdale Road. Southwest corner of Scottsdale & Jomax Roads, North Scottsdale. 5 miles south of Carefree & 5 miles north of Loop 101
WHO: More than 100 studios filled with award-winning artists passionately working on their art.Open to the public. Friendly to disabled with easy access.
ADMISSION & PARKING:
One time season pass $10 and $8 for seniors and military.
One dollar from every season pass is donated to our U.S. Veterans.
Purchase passes at the gate or call ahead.
Return as often as desired at no additional charge.
Parking is FREE
For more information go to http://www.ArizonaFineArtEXPO.com
For additional questions, call 480-837-7163