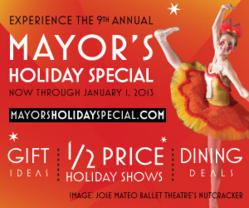 The holidays are a time to enjoy Boston to its fullest. Start a new holiday tradition with tickets to a live performance this holiday season.
Boston, MA (PRWEB) November 01, 2012
Mayor Thomas M. Menino today announced the launch of the 9th Annual Mayor's Holiday Special (http://www.MayorsHolidaySpecial.com), offering more than 13,000 half-price tickets to more than 70 of the region's most beloved holiday performances, dining deals and gift ideas. The Mayor's Holiday Special, created in partnership with non-profit ArtsBoston and Greater Boston Convention & Visitors Bureau (GBCVB), is the go-to resource for the complete Greater Boston holiday experience.
"There's no better time than the holidays to enjoy the Boston arts scene," Mayor Menino said. "Whether you're taking in the new sets and costumes at Boston Ballet's The Nutcracker, celebrating the 25th Anniversary of José Mateo Ballet Theatre's The Nutcracker at The Strand, or tapping your toe along with the Holiday Pops, you're sure to create a holiday memory you'll cherish forever, and support local business at the same time."
The holiday shows being offered at half-price include: Dr. Seuss' How The Grinch Stole Christmas presented by Citi Performing Arts Center, Handel's Messiah presented by Handel & Haydn Society and Boston Baroque, 10th Anniversary Christmas Celtic Sojourn, and many more. In addition to these holiday classics, MayorsHolidaySpecial.com also includes ½ price tickets to dozens of other powerful performances including shows by ArtsEmerson, Huntington Theatre Company and Blue Man Group.
"Attending a live performance is a fantastic way to get together with friends and family during the holidays," said Catherine Peterson, Executive Director of ArtsBoston. "Taking time to enjoy the amazing array of live arts offerings in Boston allows you to share an experience that is totally special to our region. And every dollar spent at Mayor'sHolidaySpecial.com gets reinvested back into the local arts community helping sustain year-round arts programming for all to experience."
A full calendar of free and low cost festivities is also featured along with a $10-off restaurant voucher. This year, Mayor's Holiday Special is proud to partner with Faneuil Hall Marketplace to introduce the newest tradition this holiday season called Blink! featuring the music of the Holiday Pops, a 6-week state-of-the-art light and sound show launching November 17.
Since its inception, The Mayor's Holiday Special has welcomed more than 90,000 people to holiday shows -- enough to fill Symphony Hall 35 times – saving ticket buyers more than $5 million and reinvesting the same amount back into the arts community.
"We are thrilled to be able to continue to offer live performing arts experiences to Boston-area residents and visitors," said Pat Moscaritolo, GBCVB President & CEO. "It is a great opportunity to bring friends and relatives, visiting for the holidays, to the City. Boston will be all dressed up and what better way to see the lights and enjoy the spirit of the holidays."
The half-price ticket quantities are limited, and allotments change daily, so the public is encouraged to visit early and often. Stay up-to-date on added performances and special offers with email and social media alerts on twitter.com/artsboston and facebook.com/artsboston. The site includes a list of restaurants participating in the $10-off voucher program, and the details of voucher use.
About the Mayor's Office of Arts, Tourism & Special Events
The Mayor's Office of Arts, Tourism & Special Events fosters the growth of the cultural community, promotes public participation in the arts and public celebrations, and advances cultural tourism in Boston. http://www.cityofboston.gov/arts
About ArtsBoston
For more than 35 years, ArtsBoston has championed the local arts community by connecting people of every age and background with the cultural organizations that call Greater Boston home. Equally important, through innovative programs like ArtsBoston.org and BosTix half-price ticketing that reach consumers both online and in person in Copley Square and Faneuil Hall Marketplace, area residents and visitors benefit from ArtsBoston's commitment to keeping the arts accessible and affordable. Since its origin in 1975, ArtsBoston has brought more than three million people to the arts and returned more than $42 million to Greater Boston's arts community. ArtsBoston.org
About the Greater Boston Convention & Visitors Bureau
The Greater Boston Convention & Visitors Bureau (GBCVB) is the primary private sector marketing and visitor service organization charged with the development of meetings, conventions and tourism-related business. Its goal is to enhance the economy of Boston, Cambridge and the metropolitan area. BostonUSA.com
About Blink!
Blink! featuring the music of the Holiday Pops, is a 6-week state-of-the-art light and sound extravaganza that will transform every inch of Faneuil Hall Marketplace. This magical and unforgettable new holiday tradition uses over 350,000 LED lights to illuminate Boston's skyline. Blink! will launch on November 17th in partnership with Mayor's Holiday Special. Daily shows will continue through New Years. For more information, please visit, faneuilhallmarketplace.com