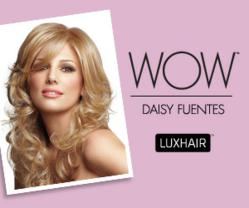 Dallas, Texas (PRWEB) November 01, 2012
LUXHAIR™ WOW™ was launched at the beginning of the fall season by model, business woman and international television personality, Daisy Fuentes. The initial launch was composed of seven fashionable and classic wig styles. Since then, four hair extensions and hairpieces have been integrated into her LUXHAIR™ WOW™ collection.
Wigs.com showcases this collection online, and together with LUXHAIR™ hopes to offer women real solutions on how to create "WOW" hair moments in a snap. Hairstyles can be altered and refined by simply adding one (or two) of the new hairpieces and extensions (22" Pony Fall Extension, Tousled Twist, WOW Bang, Braided Band) created by Daisy Fuentes. These fashion forward pieces have already caught the attention of the spotlight and featured on popular television shows such as the TODAY show and The Wendy Williams Show.
Like all wigs in this collection, each piece is made with the LUXHAIR® Keralon™ fiber, which is synthetic heat-friendly hair. This fiber has been coated with Keratin Conditioning Treatment which makes the hair feel soft and silky. The Keralon™ fiber is exclusive to the LUXHAIR™ collections. If you want hair that is "glam and go" as Daisy puts it, this collection of hairpieces and extensions represent fashion-forward looks without the commitment just for you.
About LUXHAIR™:
LUXHAIR™ shows women "HOW" to create "WOW" hair moments, "NOW" with a full wardrobe of fashion forward wigs, add-ons and extensions. Each line, LUXHAIR™ NOW™ by Sherri Shepherd, WOW™ created by Daisy Fuentes and HOW™ created by Tabatha Coffey, offers a full wardrobe of styles, cuts and color options. These are the perfect accessories to experiment with the latest celebrity hair trends without the commitment -- easy-to-wear, accessible and fashionable hairstyles for any woman. LUXHAIR™ collections all use the proprietary and innovative LUXHAIR® Keralon™ synthetic fiber which has an amazing natural feel.
About Wigs.com:
For more than 15 years Wigs.com – The Wig Experts™ has been focused on wearable hair. It has established its name as the best source for alternative hair and related products. In doing so it has separated itself from the competition with the expertise and education offered to the public. Celebrity lines such as Raquel Welch, Jessica Simpson, Vivica A. Fox, Eva Gabor, Sherri Shepherd, Daisy Fuentes and many others have partnered up with Wigs.com because they acknowledge their experience and expertise. With detailed product videos, exclusive photos and the TruColor™ tool, Wigs.com is the ideal destination for wearable hair.