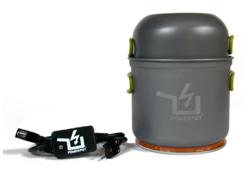 "I know you can do a trip without electricity, but I like to capture photo and video footage.... Therefore the PowerPot became the heart of my energy supply." McZonk, Camping with Gadgets, 27/08/12
Salt Lake City, Utah (PRWEB) November 01, 2012
Power Practical, a start-up from Salt Lake City, has successfully launched their first product, the PowerPot ®, after crowd-funding on Kickstarter earlier this year. The PowerPot uses thermoelectric technology to create electricity from excess energy generated from the heat of a fire. Generating up to 5 watts of output, the PowerPot V provides enough electricity to charge your USB devices any time you are away from the electrical grid.
During its 30-day Kickstarter campaign, the PowerPot raised $126,204. From their shop in Salt Lake City, Utah, the team at Power Practical ordered materials, assembled over 1,000 PowerPots, and shipped them to Kickstarter supporters in all 50 states and over 40 different countries. Now that they have successfully fulfilled the Kickstarter orders, Power Practical is pleased to announce that the PowerPot V is now in stock and can be purchased at thepowerpot.com.
The PowerPot is the first device of its kind to hit the market. The PowerPot complements existing solar panel chargers, in that it can create energy at night, in poor weather, or indoors. The PowerPot's versatility makes it well-suited for emergency preparedness in addition to outdoor adventures. The PowerPot offers the unique ability to charge cellphones or power lights from the safety of home, on a gas range or wood-burning stove. And with no moving parts, the PowerPot is very durable and has a virtually unlimited shelf life.
Power Practical was founded in 2011 with the mission of creating practical power solutions that lead to greater energy independence. Power Practical realizes the importance of having reliable energy sources, wherever people live, work or play.
As part of the Kickstarter campaign, backers were able to give PowerPots to individuals without access to reliable electrical grids around the world. Feedback was recently received from Uganda, where 10 PowerPots were delivered by the Inter-Ethnic Health Alliance. "The PowerPot works so perfectly," said one of the women in IHA's micro loan program. The PowerPot is being used every day, with available resources, all the while creating electricity to charge people's cellphones and creating lighting. To learn more, visit the official website at thepowerpot.com.