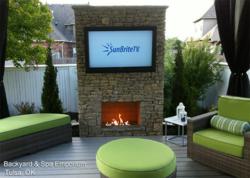 We're adding an outdoor kitchen and an outdoor TV.
Thousand Oaks, CA (PRWEB) November 05, 2012
With an eye still on household budget, a majority of homeowners responding to an online poll say they are ready to "release the grip" on some of their dollars to re-invest in their homes next year.
"We're ready," says Holly Osburn, Orlando, Florida. A couple in their 30's, Holly and husband Chet say they cut-back on home upgrades over the past couple of years because of the economy. "We just felt better saving. We held back on extras for the house."
But that trend seems to be reversing for some homeowners who responded to a poll by outdoor TV maker SunBriteTV. A whopping 81% say they are planning home improvement projects in 2013.
Dee Morrison, Carmel, Indiana explains her strategy, "We did some improvement to an outdoor deck area. It's turning out to be the living space we use most – even now, as the weather cools down. We've decided to improve it more. We're adding an outdoor kitchen and an outdoor TV."
The Morrison family isn't alone. According to the poll, other homeowners have plans to include outdoor TVs within outdoor living areas:

45% say they'll put an outdoor TV on their deck as an upgrade.
18% say they'd place an outside TV next to their BBQ, bar or outdoor kitchen.
9% say "the pool."
9% say "the patio."
18% are unsure, but say "I'll find a place."
And, as with the Morrison family, 80% of those polled say their immediate family and friends would benefit most from having an outdoor TV in their upgraded living space. Ten percent say their children would get the most benefit from a family outdoor TV. Another 10% claim the family pet would enjoy viewing TV outside. (Hmmmmm).
"We have a partially enclosed patio area that has become the hub of activity in our home," says Osburn. "We wanted to spruce it up because we spend so much time there. Having a TV made specifically for outdoors will be the perfect fit. It rains here a lot, so we wanted something safe as well as stylish."
Homeowners also revealed how much they plan to spend on home upgrades in 2013. Forty-five percent say they'll spend up to $5,000, while 55% say they'll spend between $5,000 and $25,000.
A majority say they'll spend their budget on indoor and outdoor home improvements, with 20% devoting their entire budgets to outdoor living only.
"It's usually too nice to go inside," says Ron Wright of Colorado Springs, CO. "I even like being outside in cold and rain, not just sunny days. I don't mind spending some extra money on an outdoor living area. I think that's the trend here."
About SunBriteTV
SunBriteTV is currently offering up to $600 cash-back on outdoor HDTV Signature Series models. This rebate continues through 12/31/12.
SunBriteTV designs, engineers and assembles all-weather, outdoor HDTVs in Thousand Oaks, CA, USA.
SunBriteTV's all-weather televisions have been time-tested in homes, outdoor sports arenas, restaurant and hotel patios and even on military vehicles participating in field operations. All models are available through SunBriteTV.com or SunBriteTV's network of authorized dealers.