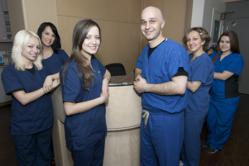 More complex procedures like dental implants, or anything that requires sedation, should be taken care of before the year is over to ensure patients receive the most care possible before they have to meet deductibles all over again in 2013
San Francisco, CA (PRWEB) November 01, 2012
The end of the year is almost here, and San Francisco dentist Dr. Samer Itani of Itani Dental invites the public to Family and Friends Day at Itani Dental on November 2, 2012 from 8 am until 6 pm for a complimentary consultation exam, X-rays and whitening, along with a discount for $775 off Invisalign treatment.
Halloween candy, Thanksgiving desserts, Christmas cookies – the end of the year is filled with sugary sweets and alcohol, which all have the potential to cause cavities. Dr. Itani reminds patients not to neglect their teeth this holiday season and to take the opportunity to use their dental insurance before the new year begins.
"The holiday season is the busiest time of the year for many people," said Dr. Itani. "It can be easy to lose track of the last time you visited the dentist. Most likely the last thing on your mind is making an appointment, but the end of the year can be the most advantageous time to receive any dental work you need, since most patients have met their deductibles or have unused flex benefits."
Dr. Itani recommends visiting the dentist, before patients get caught up in the hustle and bustle of the holidays. Teeth cleanings, X-rays and other general procedures are the key to keeping cavities at bay during the season of holiday food and drink.
"More complex procedures like dental implants, or anything that requires sedation, should be taken care of before the year is over to ensure patients receive the most care possible before they have to meet deductibles all over again in 2013," said Dr. Itani. "We specialize in special care dentistry, home care dentistry, treatment of phobic and senior patients, 24-hour emergency dentistry, dental implants and cosmetic dentistry, so we can provide just about any end-of-the-year treatment you need."
Just in time to help patients achieve a dazzling holiday smile, Itani Dental welcomes a new addition to its staff, Dr. Marwa Alkordy, DDS, who specializes in periodontal, prosthetic, restorative and cosmetic dental care, emergency treatments, Invisalign and more. Fluent in Arabic, Dr. Alkordy works with a diverse client base. Her services feature minimally invasive techniques that keep patients feeling calm and comfortable.
Itani Dental happily accepts all PPO/POS dental insurances, military benefits and HAS/FSA flexible spending plans. Call Itani Dental today to schedule an appointment, or visit the San Francisco dental office on November 2, 2012 for Family and Friends Day to meet the staff and receive discounts on Invisalign and teeth whitening treatments.
For more information about Itani Dental's San Francisco dental services, call (415) 830-9631, visit http://www.itanidental.com, or stop by 450 Sutter Street, Suite 2318 in San Francisco, California.
Become a fan of Itani Dental on Facebook at facebook.com/ItaniDentalSanFrancisco and follow them on Twitter @ItaniDental to stay up to date with the San Francisco dentist's latest offers, promotions and news.
About Itani Dental
Itani Dental is a leading and experienced San Francisco dental practice specializing in the special needs and phobic niche of dentistry. For over 10 years, Itani Dental has offered cosmetic dentistry, dental implants, Invisalign braces, sedation dentistry, senior care dentistry, home care and house call dentistry and emergency dentist services in the San Francisco Bay Area.
Conveniently located downtown close to San Francisco public transportation, the wheelchair accessible dental office of Dr. Itani is fit for special needs patients and is constantly updated to the latest technology and standards of practice.
Dr. Itani offers sedation dentistry for San Francisco Bay Area patients with dental phobias and cognitive, developmental, or physical disabilities to ensure they receive the most predictable dental care possible. He also has 24-hour emergency, weekend, and evening dentist appointments available in the Bay Area.
To learn more about dental services provided by Itani Dental in San Francisco, or to schedule an appointment, call (415) 685-0011.