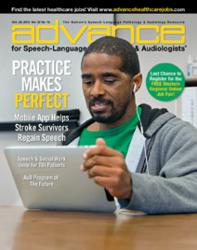 Vienna, VA (PRWEB) November 01, 2012
The Stroke Comeback Center and SpeakinMotion are featured on the cover of the latest issue of ADVANCE for Speech-Language Pathologists and Audiologists magazine. The article describes how the VAST® program began at the Stroke Comeback Center in Vienna Virginia and the role SpeakinMotion had in bringing it to the masses.
Darlene Williamson, MA, CCC-SLP, founder of the Stroke Comeback Center, details how the VAST program started out as a way to allow a person with apraxia of speech to practice at home has developed into a technique that is helping many people with speech language disorders speak themselves.
The VAST program is an innovative research based application of video technology designed to facilitate and improve communication abilities for speech-impaired individuals. At the most basic level, a VAST video is a close-up video of a trained model's mouth (along with synchronized audio) as they speak (or sing) a written script. The user watches the video (with optional written text), listens to the audio, and attempts to speak simultaneously with the model. With repetition and practice, this allows individuals to speak full sentences and communicate themselves.
In the early stages of the development of VAST, other speech-language pathologists wanted to know how they too, could use the VAST program. The barriers to bring VAST to the masses included appropriate equipment, software, technical knowledge and time to make it all work. Additionally, it required developing a process to tailor to the individual's needs and record the VAST videos at a consistent rate and rhythm. SpeakinMotion took on the large task of helping develop the program further. "The expanded use of the technique has been made possible through partnership with SpeakinMotion®. The California-based company produces all videos using trained professionals to ensure the videos conform to the highest standards of speech production. In order to meet the needs of diverse populations, several applications for the iPhone/iPad have been created. The apps focus on developmental speech, building basic motor speech patterns, and therapeutic and functional uses," says Williamson.
Today, users of VAST include individuals with childhood apraxia of speech (CAS), acquired apraxia, non-fluent aphasia, and other motor speech disorders. Professionals have been using VAST videos as "take-home" practice to reinforce speech therapy goals with their clients. VAST users have shown varying degrees of success but as Williamson mentions, for some families a small utterance can be groundbreaking. "For a family member to hear their loved one put a complete phrase or a complete sentence together or even a paragraph, is really a very significant event in their life."
To read the complete article and see the accompanying video visit http://speech-language-pathology-audiology.advanceweb.com/Multimedia/Videos/Speech-Support.aspx
For more information on SpeakinMotion's speech therapy apps and services, please visit http://www.speakinmotion.com
SpeakinMotion was founded in 2008 to make the VAST program accessible to a larger population of speech-impaired individuals and speech professionals. VAST was pioneered at the Stroke ComeBack Center in Virginia, where the program has significantly impacted a number of its members. Internal and independent trial programs have since been developed with over 12 test sites. The research has shown that many speech impaired individuals are able to acquire speech with the assistance of VAST.