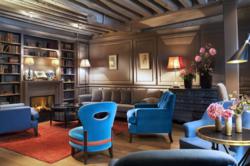 Paris, France (PRWEB) November 02, 2012
The revamped interior design by artistic team Patrick and Caroline Leghima reveals the culture and history of the Saint-Germain-des-Pres arrondissement in its decor. Cream rolls of parchment adorn wall niches, a nod to the historical publishing houses of the Left Bank, while wooden beams and the use of faded green are an homage to the colored doors in the antiques district that embraces the hotel. Exposed wood beams also line many of the well-appointed guest rooms and baths, trompe l'oeil cover the ceilings, and public spaces feature stylish design touches by owner Nicolas Nonon. Even the elevator is lined in patterned tapestry. Hôtel Verneuil Saint-Germain is the second recent hotel project for the French architect duo of Patrick and Caroline, after Tronchet Street Hotel Massena, Paris.
The hotel itself sits opposite the home of Serge Gainsbourg, and the area is a famous residential retreat for personalities from the worlds of entertainment and literature, past and present. Author James Baldwin is perhaps the most famous of former postwar Paris residents of the Hôtel Verneuil Saint-Germain. "My life, in my own eyes, began during that first year in Paris," wrote Baldwin about his time at Verneuil from 1948-49. The hotel was small but filled with artists, writers, expats, and teeming with intellectual energy. Baldwin laid the literary foundations for Go Tell It on the Mountain here and published one of his first and most enduring essays, "Everybody's Protest Novel" to Paris literary journal Zero. It was here that he refined his voice as a writer and stoked his passion for life in the cafes and radicalism of the Left Bank.
Speaking of which, Saint-Germain-des-Pres also boasts the infamous Café de Flore, Les Deux Magots and Brasserie Lipps. These legendary places, frequented by some of the greatest authors and intellectuals, such as Sartre, Simone de Beauvoir, Hemmingway and Camus, are still meeting places for French writers as well as American celebrities visiting Paris.
The streets surrounding Hôtel Verneuil Saint-Germain maintain a delightful walking ambiance; architecturally charming shops, cafes, art galleries and restaurants, the Seine and Musée d'Orsay two blocks away, and the Louvre a short walk across the Pont du Carrousel over the river.
The hotel and its website (en.hotel-verneuil-saint-germain.com) have been completely redesigned and refreshed, now featuring fully renovated rooms, air conditioning on all floors, larger bedding, showers, flat screen TVs, free WiFi throughout the hotel and a clean, up-to-date, multilingual website.
Hôtel Verneuil Saint-Germain offers wonderful value in this exclusive district. Rooms start at €169 (currently $218 USD) in the low season and €230 (currently $297 USD) in the high season with breakfast from €15 (approx. $19 USD). The hotel also features updated seasonal offerings and special rates for those looking for an extended stay or last minute reservations.
en.hotel-verneuil-saint-germain.com
Hôtel Verneuil Saint-Germain
8 Rue de Verneuil, 75007 Paris, France, +33 1 42 60 82 14
Media Contacts:
Sheila Donnelly
SDA International
sheila(at)sheiladonnelly(dot)com
Alison Sager
SDA International
alison(at)sheiladonnelly(dot)com
alison(dot)sager(at)gmail(dot)com
212.365.4687 or 212.851.8425
# # #