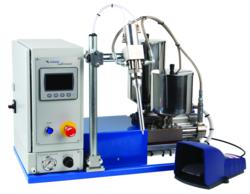 Wayne, NJ (PRWEB) November 01, 2012
Fisnar Liquid Control is pleased to announce the introduction of a Fast-Track delivery program for selected models of metering & mixing machines. The Fast-Track program enables customers to obtain rapid delivery of standard machines, configured for common two-part materials used in potting, form-in-place gaskets and sealing operations.
Fisnar Liquid Control has over 40 years of experience in design and manufacture of metering & mixing solutions for automotive, electronics, medical and renewable energy industries. High-pressure piston-pump machines provide accurate automated two-part dispensing for high viscosity fluids and precision gear pump machines provide low-pressure solutions for low viscosity fluids in RIM and casting operations.
Experienced technical advice is available in most states throughout the USA with seasoned engineers supporting our after-sales service department. A flyer describing Fast-Track options is available on Fisnar's website.
Customers can learn more or get specific system recommendations by visiting the company's website at http://www.fisnar.com to complete a questionnaire, or by calling the Technical Sales department (973-646-5044).
About Fisnar
Fisnar Inc. is a world leader in fluid dispensing and dispensing automation. Fisnar Inc. manufactures automatic liquid dispensers for adhesive, glue, silicone, RTV, anaerobic resin, epoxy, UV cure formulations and many more fluids. Fisnar® Inc. is also a manufacturer of dispensing valves, industrial robots, peristaltic pumps, syringes & consumables. Fisnar Inc. can be contacted directly at 973-646-5044 or by logging onto http://www.fisnar.com.