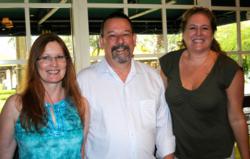 "We know the Caribbean region and the Cayman Islands intimately and fully understand the benefits that CEC's tax-exempt offering and concessions will bring to our clients"
Grand Cayman, Cayman Islands (PRWEB) November 01, 2012
In an aggressive effort to win over companies that have a regional office in Miami, Cayman Enterprise City (CEC), and the first technology-based Special Economic Zone in the Americas region, announced today a strategic partnership with The Travel Marketing Network(TTMN). Headquartered in Coral Gables, Miami, Florida, TTMN specializes in creating programmes and initiatives that drive business and revenue to the Caribbean Region.
"Miami has traditionally been the operations hub for Latin American companies wishing to reach the US and Caribbean markets as well as a base for many American businesses seeking to develop customers in Latin America and the Caribbean. Our strategic partnership with The Travel Marketing Network will enable us to leverage their regional relationships and expertise to communicate the benefits of the Cayman Islands and CEC as the new hub for the Americas region that savvy companies are choosing due to its tax benefits and attractive zone concessions," said Hilary McKenzie-Cahill, CEC Vice President of Marketing. "Cayman is very accessible, only one hour from both Miami and Panama and we experience none of the visa issues here that companies face when trying to relocate employees to the US. On top of that, Cayman is a wonderful place to live".
"We know the Caribbean region and the Cayman Islands intimately and fully understand the benefits that CEC's tax-exempt offering and concessions will bring to our clients," said TTMN Principal Tim Grace. "CEC can get companies set up and obtain the 5 Year Work/Residency Visas for all their staff within 10 days, which can save foreign nationals months of stress dealing with US Immigration attorneys and thousands of dollars in legal fees. For companies looking to access the US and Latin American or Caribbean markets, CEC's unique tax and residential combination offers a Win/Win solution".
Cayman's tax and regulatory advantages and CEC's unique zone concessions are specifically designed to attract companies from five high-tech sectors covering, Internet and media, commodities and derivatives, biotechnology and academia. CEC zone benefits include no corporate taxes, no incomes tax, no capital gains tax, and an exemption from import duties, 5 Year Work/Residency Visas granted in 5 days, Trade Certificates issued in 5 days and the ability to have your Intellectual Property and Patents held offshore. Businesses trading within CEC may be able to reduce their operational costs by as much as 50% accordingly to 2011 report by KPMG.
The Travel Marketing Network team members will be reaching out to companies based in Miami and the wider Florida region and the TMN team brings decades of experience of successfully working with international companies conducting business across the Caribbean basin. Staff members include Caribbean Nationals and others who have lived and worked for several years in the Cayman Islands, and who bring a full understanding of the advantages for businesses being domiciled in Cayman's tax-neutral island paradise, which has become the strategic gateway to the Americas.
At this time approximately 40 businesses have already established in the CEC Zone or are in the licensing process. Another 168 companies are in the sales pipeline with the greatest interest being from U.S. and Latin American firms. These are primarily from the technology and commodities sectors and they are using the zone as a quick and easy business licensing vehicle and a cost effective base to establish an international headquarters. From Cayman they can transact their global (non-US) sales in a tax-exempt, lighter touch regulatory environment.
About Cayman Enterprise City
Cayman Enterprise City is a Special Economic Zone being developed in a state-of-the-art campus of innovative and sustainable architecture in Grand Cayman, designed to complement and respect the local environment. It will include: Cayman Internet & Technology Park, Cayman Biotech Park, Cayman Media Park, Cayman Biotech Park, Cayman Global Commodities & Derivatives Park, Cayman Outsourcing Park and Cayman International Academic Park. There will be no manufacturing or industrial businesses within the zone. International businesses establishing within the zone will not be permitted to trade in Cayman outside of the zone so they cannot compete with local businesses. Cayman Enterprise City was officially launched in February this year and is open for business. To meet the demand of clients, CEC has taken 5 Class A office buildings as interim accommodation in and around George Town whilst the main campus is being built.
For more information call 345-945-3722, e-mail h.cahill(at)caymanenterprisecity(dot)com or visit http://www.caymanenterprisecity.com or Tim Grace from The Travel Marketing- email: tim(at)thetravelmarketingnetwork(dot)com.