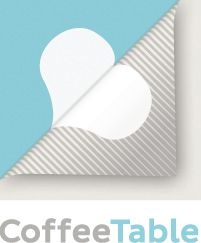 "The iPad transformed e-commerce, providing a more intimate, leaned-back experience, and we're now excited to track the emerging behavior and trends resulting from the smaller devices such as the iPad Mini."
San Francisco, CA (PRWEB) November 05, 2012
CoffeeTable, the top-ranked catalog shopping app for iPad, today unveiled the latest Couch Commerce Index (CCI), a free quarterly report generated by the company to track consumer engagement in the tablet space. With tablet adoption exploding and companies like Apple rolling out new versions of tablet devices, tablet commerce ("t-commerce" or "couch commerce") continues to rise dramatically. In addition to its Q3 CCI report, CoffeeTable also introduces this week a new version of its app to feature an expanded range of personalization features and stylistic upgrades. All of this is announced on the heels of yet more marquee retailer additions that include Express, Eddie Bauer and L.L. Bean.
Last week, Apple debuted the latest version of its flagship iPad as well as its new iPad Mini, immediately sending both consumers and industry professionals into a flurry of activity, further underscoring the intense demand for tablets. While it is no secret that tablet adoption is outpacing all other categories of consumer electronics, the rate at which it is increasing is surprising to all. According to the Pew Internet and American Life Project, one in four U.S. adults now own a tablet and about two-thirds of them purchased the device in the last year. This level of tablet activity has sparked "couch commerce", referring to individuals who browse and make purchases using tablets (mobile devices greater than five inches in size, such as the iPad), often at night and on the weekend from the comfort of their home. CoffeeTable's CCI is designed to track this consumer segment and provide critical insights into the behavior of tablet shoppers.
"Although steep growth was forecasted in tablet sales, penetration is significantly higher than even we anticipated," said CoffeeTable CEO, Ben Choi. "With the launch of the new iPad Mini, we expect the couch commerce index to further increase due to the added portability and lower price of a smaller tablet. The iPad transformed e-commerce, providing a more intimate, leaned-back experience, and we're now excited to track the emerging behavior and trends resulting from the smaller devices."
Consumer Confidence Index – Q3
Measuring indicators such as change in overall economic consumer confidence, growth in tablet penetration, and change in shopper engagement and conversion rates, CoffeeTable's Q3 CCI shows that consumer confidence on tablets has increased 3% from Q2 2012 to Q3 2012 and grown 23% since Q4 2011, the index benchmark. The Q3 CCI raised 4 points from its position in Q2 2012 at a rating of 119, to 123 in Q3 2012, further indicating sustained momentum leading into what is sure to be a record-breaking Q4 2012, according to Choi.
New App Version – CoffeeTable V3.0
CoffeeTable also announces the latest version of its top ranked catalog app, with additions designed to further personalize the core user experience with the brand new "My CoffeeTable" screen and save, share, love features. Updates in version 3.0 of the app include a streamlined number of product categories and the new "My CoffeeTable" screen, which offers personalized recommendations and deals, while also privately housing products, pages and catalogs users have marked. Additional new features include: the save option, which allows shoppers to stash their favorite products, pages, and catalogs to their "My CoffeeTable" screen to keep in one place as they browse catalogs throughout the app; the share feature, gives shoppers the ability to socialize favorite items on Facebook, while also sending them to friends via email, all without leaving the app; and the love button, which marks products that users "heart." CoffeeTable will soon provide a "live feed" of shopper activity, as well as personalized product recommendations based on an individual shopper's "loves." Lastly, and to better meet the needs of iPad Mini users, portrait mode is newly incorporated so that users can view app pages in all iPad orientations.
Since its launch in 2011, CoffeeTable has risen to become the #1 catalog app in the App Store and its user base continues to grow exponentially. With more than 160 brands choosing CoffeeTable as their tablet partner, the company has seen the number of retailers using its solution increase 33% within the past three months.
New and archived Couch Commerce Index reports are available quarterly at http://coffeetable.com/media. For more information about CoffeeTable, please visit http://coffeetable.com.
About CoffeeTable
CoffeeTable is a free catalog shopping application for the iPad, aggregating leading retailers and boutiques into a single app for a premium browsing, shopping and purchasing experience. Established in the fall of 2011, CoffeeTable has already earned a top spot in the Catalogs category in the Apple App Store, secured multiple rounds of funding and features over 160 U.S. brands including Express, Kohl's, Merrell, Crate and Barrel, dELiA's, West Elm, Harry & David, Lands' End and more. CoffeeTable is financially backed and supported by RR Donnelley, the worldwide leader in print catalog and marketing services.
About Couch Commerce Index (CCI)
The Couch Commerce Index is a quarterly index of the past quarter's consumer couch commerce confidence using Q4 2011 as the index benchmark. Couch Commerce is defined as the commerce activity that consumers engage in through tablet/touch screen devices (mobile devices greater than five inches in size), anecdotally often at home and on the couch. The CCI is calculated using indicators of tablet commerce that include change in overall economic consumer confidence (source: Consumer Confidence Index), change in tablet penetration (source: IDC, analyst forecasts) and change in shopper engagement and conversion rates (source: CoffeeTable).