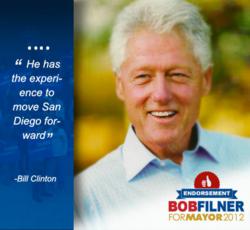 This is President Bill Clinton asking you to join me in supporting Bob Filner for Mayor
San Diego, California (PRWEB) November 01, 2012
The Bob Filner for Mayor campaign today announced the endorsement of President Bill Clinton.
In a recorded statement, President Clinton said:
"This is President Bill Clinton asking you to join me in supporting Bob Filner for Mayor.
As President, I worked with Bob to save San Diego taxpayers over three billion dollars and secured funding for construction of the Veteran's Home.
Bob has the experience to move San Diego forward – to create good-paying 21st Century jobs, to support quality public education, and to put neighborhoods first, not special interests.
As a Freedom Rider in the 1960s, Bob showed he had the courage to do what's right, and that's exactly what he will do as mayor of San Diego."
Filner expressed appreciation for President Clinton's endorsement: "I was proud to work with President Clinton to secure funding for major local infrastructure projects, to save ratepayers over $3 billion, and to strengthen our relations with Mexico, among other things. He represents the kind of bi-partisan cooperation that puts problem-solving ahead of politics, and that's the kind of mayor I will be for San Diego."
More than fifty public safety officials, Firefighters, Police Officers and Lifeguards filled the San Diego City Concourse for the announcement as a show of support for Bob Filner and to tell San Diego voters why he is the best choice for Mayor of San Diego.
An audio recording of President Clinton's endorsement can be listened to by clicking here.
###