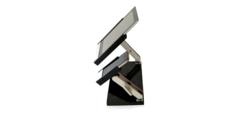 We realized that the charging platform had to pay homage to Apple itself.
Healdsburg, CA (PRWEB) November 20, 2012
The iPhone revolutionized digital devices in terms of portability. If that wasn't enough, Apple manufacturers decided to take the computer revolution to the next level with the introduction of the Tablet PC in 2010, promptly named the iPad. It seems like nothing can topple the tech giant. Expect maybe, a wet counter top.
This is what leads VERSI to develop state of the art granite based charging stands for iPad and iPhone owners. The company offers a range of elevated platforms or stands for almost every type of tablet based PC, reader or phone in the country. The aim is to provide owners a sculpted and elegant look for their portable devices even while they charge. In other words, VERSI stands are designed to make it convenient for owners to charge their devices in places that they couldn't before like kitchen counter tops or other sustainable flat surfaces.
Manufacturers claim that VERSI power stands for the iPhone and iPad offer owners a more sculptured and sophisticated look as compared to other stands. This is especially notable since the stand is designed to charge both devices at once. The fact that the stands are designed to swivel also means that customers can still operate their devices while they charge.
A spokesperson from the company had this to say when asked what impact their flexible power stands have on consumers – "When you own something as beautiful as an iPad, the last thing you need are ugly cable running around it. That would defeat the whole purpose of portability. There is always a chance that it would get stepped on as well. An elevated charging platform is the answer. In other words, a charging station had to be a VERSI, meaning it had to be versatile, ergonomic, elegant, revolutionary, sculptured, and iconic to make it on par with every tablet or iPhone."
About VERSI
The California based company manufactures charging stations for all generations of the iPad and iPhone. Besides the VERSI Dual Charging Workstation, the company also offers separate charging stands for the Kindle Fire, VERSI Single Charging Workstations for the iPad as well as VERSI Family Charging Workstation Stands. The company launches its stands at a pinnacle moment as Apple has released two new additions in its line of sleek portable devices, the iPhone 5 and the iPad Mini. For more information, please refer to the following –