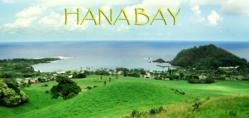 taro leaf represents the company's focus on Hawaiian culture
(PRWEB) November 13, 2012
Valley Isle Excursions, a Maui tour company, has rebranded its logo and website in response to company growth and increasing visitor requirements. To better support and reflect the organization the company has launched a new site with a new logo to support their road to Hana tour.
Unlike many Hawaii based organizations who use a flower as their logo, Valley Isle Excursions chose to go with the taro leaf instead. The taro leaf represents the company's focus on Hawaiian culture not only in the tour but in everyday business operations. The company, while providing a unique experience, operates in an eco-friendly, socially responsible and culturally supportive way so that tourism on Maui is a sustainable operation.
This new site based on wordpress contains many features that the previous HTML based did not. Interaction with social media, blogs, videos, online booking system, slideshows and so much more. The site utilizes a responsive design that keeps it usable on any device's screen.
The blog will contain a growing list of pictures, tips and advice about the road to Hana, Hawaiian culture and the many sites and experiences you can have on Maui. This will be used not only to help visitors reduce their travel frustrations but will also teach and entertain so that that visitor experiences on Maui will be more fulfilling.
Hawaii Web Group is helping to support this initiative with it's new website RoadtoHana.com. This site features Valley Isle Excursions' Road to Hana Tour as well as other local businesses, services and accommodations related to the Hana highway or the town of Hana itself. The information contained on these sites will help any traveler on the road to Hana gain a more enriching experience from making the journey.
To find out more about Maui or the road to Hana contact Valley Isle Excursions by visiting their website at http://www.tourmaui.com and learn more about the road to Hana at http://www.roadtohana.com.
Valley Isle Excursions
Kahului, HI
(808) 661 8687