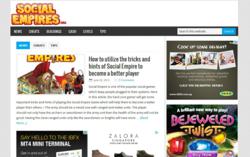 SocialEmpires.org is dedicated to discussing everything a Social Empires player should know.
Phoenix, AZ (PRWEB) November 24, 2012
The phenomenal rise of Facebook has brought with it a tremendous and radical change in the way people connect. Social networking has given individuals the power to make instant reactions and comments within their fingertips – and make it no to the world in seconds.
Along with the apparent communication gaps that social networks have successfully filled, gaming also took a step further, with the social element becoming integrated with it – with Social Point and Zynga pioneering the Internet games development industry.
One of the social network games successfully developed by Social Point and released by Zynga is Social Empires, which is essentially a combat and strategy. Social Empire is a freemium game and therefore does not cost a dime to play, but gamers can opt to purchase premium content. Statistics reveal that as of November 2011, the Social empire game has drawn 18 million active users on a monthly basis, and counting.
SocialEmpires.org is dedicated to discussing everything a Social Empires player should know. The online resource for avid gamers of the simulation, role-playing and turn-based strategy game, the website provides hints and tips that enable followers to perform better in the game and enjoy more.
Suggestive of its name, Social Empires is a game where the player has to build an empire. The users will build a town, create an army, and then they will collect resources. The users will then have to fight with trolls present on the game map. The users can train villagers to get help in resource collection.
According to SocialEmpires.org, Social Empires is one of the most sought for games in the social network because it offers a very good combination of the massive multi player online or MMO element and real-time strategy or RTS.
It requires players to start the game with a small plot of land and a single peasant and, with proper strategic planning and efficient playing, grow it into a successful empire.
Offering insights to improve gaming, SocialEmpires.org spills some strategies that embrace the right mix of ranged and fight units in the army – because keeping only archers or swordsmen will get defeated by ranged enemies even before a strong attack is launched. The game guide for the Social Empire game also offers cheats and heads-ups on each game level.
For more information about the popular Social Empires game and valuable game strategies, please visit http://www.socialempires.org for details.
ABOUT
SocialEmpires.org is website that aims to be the go-to resource for news and updates about the popular social networking game title. It offers visitors cheats and tips for great and enjoyable gaming.