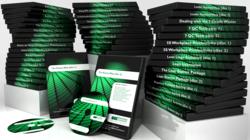 Mukilteo, WA (PRWEB) November 01, 2012
Gemba Academy, the leading provider of online lean manufacturing and lean enterprise training, is pleased to announce a November promotion for 44 free lean training DVDs, including worldwide shipping.
Specifically, between November 1 and November 31 anyone that purchases a 6-month or 1-year online subscription to the Complete Lean Package will receive the Complete Lean Package set of 44 DVDs absolutely free! This even includes worldwide shipping!
The Complete Lean Package includes courses on 5S, kaizen, kanban, hoshin planning, total productive maintenance, value stream mapping, quality control tools, practical problem solving, the seven deadly wastes, standard work, leader standard work, 3P production preparation process, quick changeover (SMED), just in time, built-in quality, and interviews with lean leaders and lean thinkers.
Gemba Academy training programs are unique in that there are no per-seat or per-view fees. For one set price an organization can train as many people as necessary, as often as required, at a single site. The modules are delivered in high definition (HD) format so they can be viewed at an individual computer or projected into a training room with no loss of quality. An online subscription provides access to all current and future material, with DVDs also available.
Learn why over 1,000 organizations use Gemba Academy lean manufacturing and lean enterprise training products at http://www.gembaacademy.com.