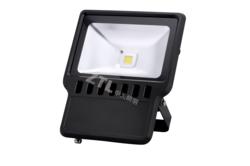 (PRWEB) November 10, 2012
As winter is coming and the weather is becoming colder and colder, the outdoor light plays an important role at night. The requirement of it also becomes stricter. Zhongtian Lighting introduced a 100W high quality flood light to be a solution for this situation. This new durable fixtures are an excellent choice for pools, ponds or other bodies of water where lighting needs to be completely submerged. It is also a convenient choice for areas with a lot of water exposure from fountains or rain run-off. Underwater outdoor LED lighting options are available on most models as well.
The small size and the light weight of the flood light enable it to be easily installed for indoor and outdoor applications. Typical usages for the [ZT-FL-100W] include spot lighting, architectural lighting, commercial lighting, factory and work area lighting, retail lighting, public space and building exterior lighting, as well as many other interior and exterior lighting roles.
In addition to underwater lighting, Zhongtian Lighting stocks spot light, high bay light, LED tube, LED bulb and so on. Numerous configurations are available, including hanging lights, in-ground well lights and post top lighting. For a more energy efficient system, choose from a variety of LED lighting options, as well solar lighting. Improve the appearance and safety level of any outdoor surface with85V-264V LED lamps. Choose from flush mounted, built-in or surface mounted lighting that requires no cutting into the surface area. A custom-engineered lightweight aluminum board further supports thermal management. These measures reduce stress on the dimmable LED driver as well as the chips, significantly extending the lifespan of the whole light flood light. The [ZT-FL-100W] comes with the company's 3 Year Warranty.
Zhongtian Lighting provides environmentally friendly improvements to residential and commercial properties through distribution of green, energy efficient products and services. It offers every product needed for sustainable energy independence enabling homeowners, businesses and commercial property owners to master their usage by reducing waste and implementing efficient energy consumption methods. Their goal is to provide user friendly and practical long-term solutions to existing inefficiencies and their carefully selected products and professional installers offer a higher level of satisfaction and service for their customers.
For more information, please visit http://www.ztlights.com.