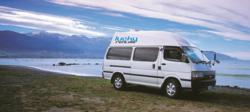 "New Zealand is a country that you can't just see in one trip, there's so much to discover and explore, and that's exactly the experience we want to give away to one lucky traveler" - Nathan Brand, Managing Director of Lucky Rentals
(PRWEB) November 02, 2012
http://LuckyRentals.co.nz, New Zealand's cheapest campervan company, have been helping people travel through New Zealand for two years. They are now offering one lucky traveller the chance to 'Win A Campervan For Life'.
The 'Win A Campervan For Life' competition offers the opportunity to win a Lucky Cruiza, for two weeks every year for the rest of the winner's life, meaning they can experience New Zealand the way it should be experienced.
"This is an amazing competition that gives travellers the chance to see New Zealand more than once and also helps out with the cost associated with travelling" says Nathan Brand, Managing Director of Lucky Rentals.
The competition is running through the Lucky Rentals Facebook page and travelers can enter at: http://luckyrentals.fbapps.to. It finishes on the 19th November 2012 and is only open to non New Zealand residents.
Lucky Rentals provides travellers with New Zealand's lowest priced campervans and motorhome rentals. " We believe in people spending their money on adventures and seeing this beautiful country not on expensive campervans" says Nathan Brand.
Brand continues, "New Zealand is a country that you can't just see in one trip, there's so much to discover and explore, and that's exactly the experience we want to give away to one lucky traveller"
Ends
Contact:
Nathan Brand
Email: nathan.brand(at)luckyrentals.co(dot)nz
36 Rennie Drive, Airport Oaks
Auckland
New Zealand