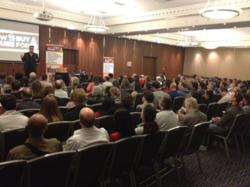 I'll spend eight hours detailing the benefits of creative property investment strategies and how they could be used to solve your real estate problems
(PRWEB) November 01, 2012
Recent predictions and trends in the property market show how unpredictable the market is. After a continuous upwards trend from the end of May 2012, it peaked on the last day of September before retracing at 0.6% over the first 2 weeks of October.
The unpredictable market is causing people, especially first homebuyers, to hold off buying property. This is why property innovator, Rick Otton, developed creative strategies to effectively buy houses without worrying about property market trends and predictions.
"Creative real estate strategies are specifically designed to help people easily buy property – even without banks and loans. These strategies focus on solving other people's problems and work effectively regardless of the current trends and predictions in the property market," Otton said.
Wise Property Investing through Creative Real Estate
Having spent more than 30 years in property investing, Rick Otton has seen and experienced firsthand how unpredictable market trends and predictions could get and how it could affect people when considering property investing. Because of this, Otton developed creative real estate strategies to work around unstable trends and predictions in the property market.
"Creative real estate strategies make buying and selling properties easier and simpler even for those who have no experience in property investing. These strategies are the new way forward to invest on property without risks," Otton explained.
Thousands of individuals have benefited from wisely investing on property through Otton's creative real estate strategies. T Cat, one of Rick Otton's students, has learned a valuable skill on wise property investing.
"I went to Rick Otton's bootcamp for three days, I spent $2.00 and I bought two houses. I mad $17,000 cash and $72,000 backed profit and I have a skill going as well. Thank you very much for that," Cat said.
Aside from bootcamps, Otton is sharing his creative property investment strategies through a series of one-day training seminars throughout the country. The purpose of these free live training seminars is to provide a deeper explanation on how to use creative strategies to buy and sell properties.
"I'll spend eight hours detailing the benefits of creative property investment strategies and how they could be used to solve your real estate problems. We'll talk about property problems with real figures and solve them using creative real estate strategies," Otton explained.
To learn more about Rick Otton's creative real estate strategies, visit http://www.howtobuyahouseforadollar.com/register. You'll also find details about Otton's next training events – and how to reserve for a free seat – here.
4 November – Brisbane
24 November – Melbourne
About Rick Otton
Rick Otton has spent decades making money by snapping up inexpensive real estate and putting it to work building wealth. Now, he's teaching other Aussies how to do the same.
Otton is the founder and CEO of We Buy Houses, which operates in the U.S., U.K., Australia and New Zealand putting his strategies to work every day.
Otton got his start in alternative real estate investment in 1991 and within a year acquired 76 properties. In years after, Otton made a fortune using his low-risk, high-reward strategies to inexpensively acquire real estate.
Now, Otton wants to share the wealth by sharing the wisdom, teaching Aussies how to buy and sell real estate without cutting banks and other middlemen in on the deal.
Otton has been featured in a variety of television programs and magazines, including Today Tonight, A Current Affair, Australian Property Investor and more.
You can learn more about Otton and how to invest in residential real estate without using banks at http://www.rickotton.com.