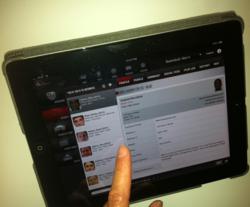 "The ACSCoach app is very cool, intuitive and easy-to-use, and the powerful recruiting board, communication and social media capabilities are top notch."
Austin, Texas (PRWEB) November 01, 2012
Collegiate coaches are now going mobile using their iPads to interactively engage recruiting prospects and manage current student-athlete information with the new ACS Athletics application. Available in the App Store, the ACSCoach iPad application is the perfect mobile companion product to InControl®, ACS's industry leading student-athlete information management system.
"More coaches are going mobile using iPads for game preparation, video and scouting, but until ACS, there have been no apps that have taken an integrated approach to improve communication and efficiency in key areas like recruiting, operations, and compliance," said Rayan Rutledge, Vice President of Operations at ACS Athletics. "While coaches are already using InControl's existing web-based recruiting and communication capabilities, the ACSCoach iPad app provides a powerful new way to connect with recruits and athletes on the go, as well as manage and share information that's essential to their program's success," Rutledge said.
"ACS helps me be a more effective coach and recruiter and with the ACSCoach app, they're now giving me even more of an advantage on the recruiting front, said Van Malone, Assistant Football Coach, Oklahoma State University." "The ACSCoach app is very cool, intuitive and easy-to-use, and the powerful recruiting board, communication and social media capabilities are top notch."
Mobility, integration, communication, and monitoring are the functional cornerstones of the ACS Athletics product portfolio. Founded in 1999, ACS Athletics was the first company in the industry to offer a holistic approach to managing athletic operations on one platform, including web-based and native smartphone and tablet applications for users. ACS mobile applications primarily assist with facilitating and managing recruiting and compliance-related activities.
"After hearing from coaches about how they wanted to use their iPads to better engage recruits and their athletes, giving them a simple, intuitive app was the next step for our company given the success our customers are having with our smartphone applications," said Jason Gutcher, Vice President of Product Development and IT at ACS Athletics. "We want to make sure our coaches can easily manage their activities and engage recruits quickly so more of their conversations translate to wins in recruiting and on the field of play," Gutcher said.
The ACSCoach iPad app is available in the App Store by searching ACSCoach on your iPad. For more information, please visit ACS Athletics at http://www.acsathletics.com or by phone at (800) 343-6220.
About ACS Athletics:
ACS Athletics (ACS) is the leading provider of integrated web and mobile solutions for increasing staff and operational performance and reducing risk in collegiate athletics departments. ACS gives customers a competitive advantage by providing an integrated, holistic approach to managing athletics operations, compliance, student-athlete information and communications on one platform. ACS customers are more efficient, organized and compliant, and are better positioned to communicate and develop relationships that are vital to their success. ACS proudly services athletic departments in the top conferences including the Atlantic 10 Conference, Atlantic Sun Conference, Big 12 Conference, Big East Conference, Big Sky Conference, Big South Conference, Big Ten Conference, Big West Conference, California Collegiate Athletic Association, Capital Athletic Conference, Centennial Conference, Colonial Athletic Association, Conference Carolinas, Conference USA, Empire 8, Great Lakes Valley Conference, Ivy Group, Mid-American Conference, Missouri Valley Conference, Mountain West Conference, Northeast Conference, Ohio Athletic Conference, Ohio Valley Conference, Pacific-12 Conference, Southeastern Conference, Southern Conference, Southland Conference, Sun Belt Conference, Sunshine State Conference, The Summit League, West Coast Conference, and Western Athletic Conference. ACS Athletics was founded in 1999 and is a privately held company headquartered in Austin, Texas.