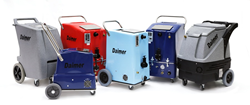 Daimer® employs and is committed to U.S. workers, and is the leading commercial steam cleaner brand on the web globally. We expect our carpet cleaner revenue for the year to be the highest in Daimer®'s history.
Woburn, MA (PRWEB) November 01, 2012
Daimer Industries, Inc.®, the global leader of U.S. produced carpet cleaning machines sold to customers in over 200 countries, is proud to announce a surge in foreign sales of its various models of carpet cleaners for the third quarter of this year over the same period last year. Importantly, the company is doing its part in helping the troubled United States exports and economy as it ships worldwide. Product sales have been accelerating at a fast pace, even stronger than Daimer® had ever anticipated.
"It is absolutely critical for all U.S. companies to increase exports to help drive the economy. Mostly everyone in the country is aware of the tremendous trade imbalance that continues to increase each year, crippling America and destroying jobs," states Matthew Baratta, Daimer® Industries' spokesman. "We are thrilled our XTreme Power® line is so well sought after by the international community. Daimer® employs and is committed to U.S. workers, and is the leading commercial steam cleaner brand on the web globally. We expect our carpet cleaner revenue for the year to be the highest in Daimer®'s history."
Daimer Industries®'s carpet cleaners are purchased by virtually all sectors within foreign economies, including carpet cleaning professionals; those involved with auto detailing; hotels; restaurants; retail stores, government office, military installations, and many more.
The company's commercial carpet cleaners include the most technologically advanced truck mount carpet cleaning equipment and carpet steam cleaners, offered with the company's patented, self-adjusting XTreme-Xtraction™ carpet wand. This special tool took about a year to perfect, and the results are a 60% increase in suction over and above any other carpet wand of its type in the industry. The added extraction is equivalent to the suction power of an extra vacuum motor, which helps to dramatically reduce drying times, which as as low as only two hours, depending on the model.
Daimer® offers a wide variety of industrial and commercial carpet cleaners, carpet steam cleaners, portable extractors, and carpet shampooers. Pressure levels range from 120 psi up to 500 psi for Daimer®'s top of the line XTreme Power® XPH-9600 and 9650 systems that rival the power of truck mount carpet cleaners.
In fact, Daimer® is the industry's leader in truck mount carpet cleaners made for private label for a number of companies both domestically and internationally. Truck mounts have contributed greatly to the Daimer®'s exports. The company will be soon be introducing its own line of truck mounts under the Daimer® brand. Truck mount models are available with large engines, offering up to 3000 psi for carper and hard surface cleaning.
Daimer® differentiates itself from other brands in the world due to the fact its best carpet cleaning machines are engineered so users can replace parts themselves in the very rare case it becomes necessary. The company's special design absolutely eliminates the need to have machines serviced through a service center anywhere in the world. Parts are readily available.
XTreme Power® inline heating based systems offer the world's only adjustable temperature feature, permitting the users to adjust temperature easily. The machines' heat can be disabled for conditions when heat should never be used. Natural wool, for instance, should be cleaned without heat since the carpet can shrink.
Daimer®'s carpet cleaners portables include hose lengths up to 100 feet. Optional upholstery and crevice tools are available for immediate shipment. Models are available in 220-240 volt, 60 Hz as well as 50 Hz. for foreign customers.
Additional Information:
Learn more about Daimer®'s carpet machines by visiting the company's website or contacting Matthew Baratta directly at (888) 507-2220. Daimer® ships to 200+ countries, which are listed on the website under Customer List.
About Daimer Industries, Inc.®:
Daimer Industries® is an industry leader in hundreds of models of American manufactured commercial and industrial carpet machines, pressure wash machines, and floor and hard surfaces machines.