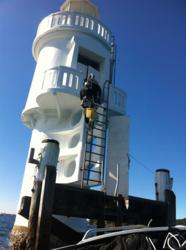 "BD is environmentally conscious and where possible will recycle and reuse materials without compromising the finished result".
Sydney, New South Wales, Australia (PRWEB) November 05, 2012
Last week marked the launch of Sydney's newest specialist building and waterproofing company, BD Remedial Building & Waterproofing Pty Ltd.
"Due to the rate of defective waterproofing in Sydney and the need for quality long-lasting repairs, my business partner Steve Bourne and I are delighted to announce our new joint venture," said Australian company director and certified builder, Luke Ratcliff.
According to Ratcliff most waterproofing membrane failures occur as a result of applicator error when applying liquid membranes, a waterproofing method widely used in Australian homes and businesses.
Failure can result in leaking bathrooms, balconies, laundries and planter boxes, and expensive repairs.
"We are seeing a lot of failures in Sydney buildings due to flawed application, which can result in the liquid membrane leaking when the building moves, among other problems," added Ratcliff.
"Because we have observed a higher rate of failure with liquid membranes, instead we use PVC sheet waterproofing membrane. As well as having the right product, the installation demands the right technical skills, which we have developed over many decades."
Licensed waterproofer Steve Bourne and Luke Ratcliff have combined 40 years' of industry experience and knowledge to offer expert advice and a watertight end result to areas that commonly leak.
Passionate about green building, director Steve Bourne says, "BD is environmentally conscious and where possible will recycle and reuse materials without compromising the finished result".
Licensed, fully insured and OH & S compliant, BD Remedial Building works directly with the big insurance companies, body corporates and strata managers, as well as with commercial and residential clients to deliver a watertight solution that will stand the test of time.
BD Remedial Building is Mona Vale based and with their team of qualified tradesmen is now serving Sydney's northern beaches, upper and lower north shore, eastern suburbs and CBD. For larger jobs BD will quote and work outside the Sydney metropolitan area.
November is a busy month outside work hours with Ratcliff and Bourne taking part in last weekend's Sydney to the Gong fundraising event, along with 10,000 other bike riders, and signing up for 'Movember' to support prostate cancer and male mental health initiatives.
For information about waterproofing defects and the common signs of a leak go to the website http://www.bdremedialbuilding.com under FAQs.
Follow BD Remedial Building on Facebook at http://www.facebook.com/BD.Remedial.Building
and Twitter https://twitter.com/BDRemedialBuild and via their company LinkedIn page, BD Remedial Building & Waterproofing.