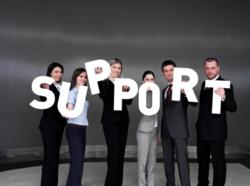 In our experience, for our customers getting quality support in a timely manner is almost a matter of life and death
(PRWEB) November 03, 2012
For a limited time, Recovery Software will be giving away 1 year of Priority customer support with every purchase of eligible data recovery product. Available for orders submitted between November 10 through December 31, 2012, the time-limited offer will add the benefits of priority technical support to all customers for no extra charge. Eligible products include RS Partition Recovery, RS File Recovery, and RS Photo Recovery.
Priority Support
Priority customer support is essential for everyone, but the customers of data recovery companies value it more than ever. All data loss scenarios are unique. Different tools, approaches and techniques are required for obtaining the best result in each particular. Customer support specialists routinely help clients choose the right tool for their job, advise on which steps to take or which mode to employ to get the best result in the shortest time. Receiving a timely advice may save hours of work, and will often result in a higher-quality recovery.
"In our experience, for our customers getting quality support in a timely manner is almost a matter of life and death", says Vladimir Voloshin, the company's president. "In many cases, receiving or not receiving customer support can mean getting or not getting the data back. This is why we decided to give away three years of Priority support to everyone buying an eligible product from us".
The deal runs from November 10 through the end of the year. Customers who purchase an eligible product automatically receive a subscription for 3 years of Priority customer support at no extra charge. Three products are eligible for this offer, and include RS Partition Recovery, RS File Recovery, and RS Photo Recovery.
About the Products
Recovery Software markets a range of data recovery tools including RS Partition Recovery, RS File Recovery, and RS Photo Recovery.
RS Partition Recovery is the company's top of the line product, enabling reliable recovery of information located on damaged, corrupted, formatted, repartitioned and inaccessible hard drives. Using a proprietary signature-search algorithm, the tool scans the entire surface of the disk in order to locate and recover files even if the file system is empty, damaged or completely missing.
RS File Recovery includes a simplified version of the same signature-search algorithm employed in the top-of-the-line tool. This lighter, easier and more affordable product can reliably recover deleted files from healthy disks and partitions.
RS Photo Recovery is designed to recover digital pictures stored on all types of media including hard drives, USB flash drives and all compatible memory cards used in today's digital cameras. The tool still includes a version of signature-search algorithm, albeit tailored locating images only. The tool comes with fully preview for images and RAW files.
About the Company
Founded in 2008, Recovery Software develops and markets a wide range of data recovery tools for the Windows platform. The company's tools recover information from all types of storage media including damaged, corrupted, inaccessible, formatted and repartitioned hard drives. The company strives to provide professional-grade tools that can be used by ordinary computer users at homes or in the office. The company's customers receive quality support in a timely manner. Email support is standard, while instant online chat support is available to Priority Support subscribers around the clock.