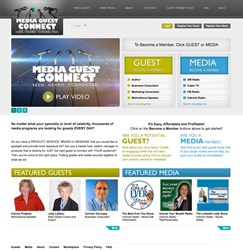 The ideas is to keep it simple, extremely user friendly, and above all, of great value to both potential guests and media outlets of any type.
Pawling, NY (PRWEB) November 12, 2012
Creating a 'buzz' is vital for any smart business professional eager to get their message, brand or product to market. Media hosts often are a tremendous resource for promoting experts including speakers, authors, consultants, and celebrities in a wide spectrum of fields. It allows them to more easily spread the word through their audience bases. With so many shows now in syndication, the reach is even wider via the internet exposure.
Now helping hosts find the perfect guest and experts find the perfect audience just got a whole lot easier! MediaGuestConnect.com has announced their official launch. You can now browse through the most extensive and advanced directory of talent, products and services that are ready for media broadcast.
MediaGuestConnect.com is quickly becoming a viable way for people with every possible expertise to connect to the media on TV, radio, and the web. It is a one-stop shop as well for media professionals who are looking for guests that appeal to their specific demographic to appear on their shows.
It's fast, easy and affordable. Experts can just visit the site, choose the membership that works for them - and start telling their story. They can immediately create an engaging and interesting profile that will have media sources and outlets start contacting them so they can appear, promote and build their marketing repertoire.
MediaGuestConnect.com is also the answer many media hosts, station managers and producers have been looking for! Finding the right guests to fit every show's demographic need was no simple task in the past. It costs time, money, effort and energy on behalf of a media team to seek new talent that is ready, willing, able and appropriate to present on shows. Now one simple-to-use site will make all the difference. Putting the right guests and media sources together is what they do! You can be a media member and start finding the right guests today that fit your target market and will help you grow your audience immediately.
What will guests get from their membership?

Exposure for show, brand, business or message across North America
Social Media Marketing
Valuable SEO Backlink Creation
Guest Blog Opportunities
Matching the Right Guests With the Right Hosts and Audience
Product Promotion
And So Much More
MediaGuestConnect.com was founded and developed by Carmen Carrozza, a well-known business coach, consultant and radio personality in response to the difficulties he faced in finding qualified guests for his own program. After connecting with colleagues facing the same challenge, Carmen made it his passion to deliver a platform that would easily, affordably and effectively solve the problem and create valuable connections nationwide.
MediaGuestConnect.com was founded in 2012 and its mission is to make great connections for their expert guests and the media that have them both grow and prosper! Experts can sign up or learn more about how they can be SEEN, HEARD and CONNECTED by visiting their website http://www.mediaguestconnect.com or via phone 845-202-2642.