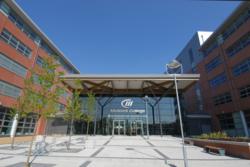 Students who attend MidKent College have a better chance than ever of success
Kent, England (PRWEB UK) 2 November 2012
MidKent College is celebrating its best ever results – for the second year running.
In the last academic year the College helped almost 5,000 students of all ages to achieve a major qualification. Figures published last week show a 93% pass rate – an all-time high for the College.
In addition, its success rate – the principle measure of quality of education in colleges – improved by 3% and now stands at 4% above the national average.
Principal Stephen Grix said: "This is a phenomenal achievement and demonstrates that students who attend MidKent College have a better chance than ever of success and of improving their career prospects.
"This is another important milestone for the College and a fantastic reward for all the hard work our lecturers and other members of staff put in on a daily basis."
Earlier this year the College also celebrated its best ever A-level results thanks to an overall pass rate of 96%.
Visit http://www.midkent.ac.uk for more information.