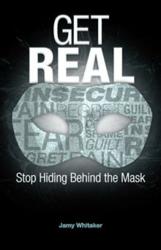 Hiding who you really are is a life hazard
Bowling Green, Ind. (PRWEB) November 05, 2012
As a wife and mother of five, author Jamy Whitaker knows all too well how destructive building the façade that everything is fine can be. "Tearing down this wall and letting people see the real me – the pain, the struggles, the tears, and the triumphs has been difficult but rewarding," she explains. Her new book, "Get REAL: Stop Hiding Behind the Mask" (published by WestBow Press), examines how to do just that.
"Based on several past experiences, I felt I could share what I have learned to help other women learn what their true identity is and to let go of the insecurities that try and weight us down," Whitaker tells readers.
"Get REAL" delves into discovering a person's true identity, centered on God's view of everyone, letting go of the insecurities that so easily entangle one's lives and finally, living with eternal perspective – keeping one's focus heavenward instead of inward.
An excerpt from the chapter entitled "Insecurities":
"Friends and family are a group, one would think, for whom no mask is necessary because you do not have anything to hide. However, in several instances, this is the first mask a person ever puts on. Fear is the underlying reason behind wearing one in front of this group. People are afraid that they will not be loved and accepted for how they are. Therefore, the mask begins to be constructed little by little. We begin to change whom we are to try and become who we think our friends and family want us to be. In the process, we can lose the sense of whom we really are, our true self."
"Hiding who you really are is a life hazard," Whitaker says. "Get REAL" is sure to empower women to let their true identity in Christ shine through.
About the Author
Jamy Whitaker graduated with a degree in English from Indiana State University. She lives in Indiana, in a picturesque, rural setting, lovingly referred to as Whit-Akers, with her husband and five children. Visit http://www.jamywhitaker.org to learn more about the author, her writing and speaking.
WestBow Press is a strategic self-publishing alliance of Thomas Nelson, Inc., the world's largest Christian publisher, and Author Solutions, Inc. (ASI) — the world leader in the popular self-publishing industry segment. Through this partnership, authors benefit from the rich publishing heritage of Thomas Nelson and the speed-to-market advantages of the ASI self-publishing model. Titles published through WestBow Press are evaluated for sales potential and considered for publication under the Thomas Nelson imprint. Thomas Nelson, Inc. continues to "inspire the world" with distribution of products in more than 100 countries worldwide. For more information, or to start publishing today, visit http://www.westbowpress.com or call (866)-928-1240. Follow us @westbowpress on Twitter for the latest news.
###