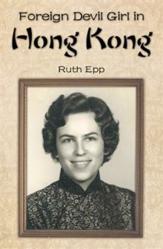 SAN PEDRO, CA (PRWEB) November 05, 2012
In Ruth Epp's memoir "Foreign Devil Girl in Hong Kong" (published by Inspiring Voices), she remembers the joys and hardships of being a young girl in a land unknown.
Ruth left her home on the prairies of South Dakota and traveled to Hong Kong by cargo ship in 1959. This trip was her response to a "call to China from God," which, says Epp, she had felt since early childhood. "The ship's officers smiled in amusement and asked, 'What do you think a 22-year-old girl like you can do in Hong Kong,' Epp recalls, and adds that she thought she knew exactly what she would do there.
Once on land – a lone "foreign devil girl," surrounded by poor working-class people whose language, culture and life experiences were different from her own – the difficulties of fulfilling her mission became increasingly apparent. "Cantonese is one of the most difficult Chinese dialects to learn," she says "and her 'teacher' didn't know a word of English." As she attempted to speak in her limited Cantonese, outbursts of hilarious laughter often followed. This only increased her determination to learn to speak Cantonese perfectly and help her grassroots neighbors find their way to God.
Epp presents her story in an upfront, humorous way that helps the reader see how honest and real she is. She also weaves into the story vivid pictures of the people among whom she lived – their struggles with poverty and their very real fear of an imminent Chinese invasion of the colony.
An excerpt from "Foreign Devil Girl in Hong Kong":
"We walked to the village that day. The weather was cool and windy, just right for walking. Besides, I didn't feel up to another one of those wild bicycle rides. As we went, children began to follow us, walking in single file on the narrow path behind us. I almost felt like the Pied Piper as the line got longer and longer and the children kept calling excitedly to their friends in the villages that we passed, 'We're going to hear Jesus.' They were bitterly disappointed, and so was I, when the man who came with me was in such a hurry that he wanted to leave as soon as he had finished interviewing the adults and surveying the village. He wouldn't wait for me to tell even one short story to the children!"
About the Author
Ruth Epp, née Smith, went to Hong Kong as a missionary in 1959 and made her home there until 2005. She has previously published "Countdown Collage: Hong Kong in Transition." She married in 1964 and has three children. She and her husband, Rev. John Epp, live in San Pedro, Calif.
Inspiring Voices, a service of Guideposts, is dedicated to helping authors share their words of hope, faith and inspiration with the world. A strategic publishing partnership with indie book publishing leader, Author Solutions, Inc.; Inspiring Voices allows authors to publish inspirational and spiritual books without respect to their specific doctrine, denomination or political point-of-view. Authors published through Inspiring Voices benefit from access to exclusive Guideposts marketing services, with select titles appearing in a special collection at Guideposts.org. For more information on publishing with Inspiring Voices, log on to inspiringvoices.com or call 866-697-5313.