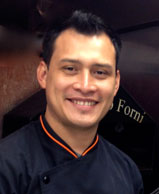 Professional chefs spend a lifetime perfecting their craft and honing their skills, and TigerChef is proud to showcase their talents...
Suffern, NY (PRWEB) November 01, 2012
TigerChef, leading online supplier of restaurant equipment and catering supplies, has just announced the winner of its Signature Recipe Contest. The six-week contest, which ran from the end of August 2012 until mid-October 2012, was open to anyone working in the food service industry – including professional chefs, culinary students, restaurateurs, caterers, and bar owners. The competition offered participants a chance to win a $500 coupon towards premium TigerChef restaurant supplies in addition to gaining critical exposure for their business.
The winner of the Signature Recipe Contest is 28-year-old Giovanni Orellana, who works at the Barcode restaurant, bar and lounge in Washington, D.C. His signature recipe for Nutella Pizza, which turns the classic pizza recipe into a delectable desert, was awarded the grand prize due to its creativity, beautiful presentation, and unique combination of ingredients (including Nutella chocolate spread, fresh strawberries, mint, and crumbled walnuts). Born in the Republic of El Salvador in 1984, Orellana immigrated to the United States in 2003, gradually working his way up from cook to substitute chef to executive chef in the D.C. area. His specialty and passion: Modern American cuisine mixed with a twist of Latin, Italian, and French flavor.
In addition to the $500 TigerChef coupon, Orellana's prize includes his name, winning recipe, and business headlined in a press release, essential exposure on social media sites such as Facebook, Twitter, LinkedIn, Pinterest, and Google+, and his signature recipe showcased on the TigerChef.com contest page. Also featured on the page are ten second-place recipes from the runners-up, including mouth-watering images of each signature dish accompanied by their ingredients and cooking directions. The competition attracted a large number of entrants, among them culinary students and chefs working for non-profit establishments, including orphanages and shelters.
"We are delighted to announce our Signature Recipe Contest winner and thank all the contestants who submitted their creative and original recipes," says TigerChef President J. Stefans. "Professional chefs spend a lifetime perfecting their craft and honing their skills, and TigerChef is proud to showcase their talents and bring their businesses the type of exposure they deserve."
Restaurateurs and professional chefs value TigerChef as a full-service source for over 200,000 products, including bar supplies. TigerChef takes pride in serving their customers from start to finish. They don't just sell products, such as chef supplies and kitchen equipment; they use their knowledge to help their customers craft their industrial kitchens into ideal workspaces. TigerChef staff serve as consultants regarding the products that they sell and even assist with kitchen design. They work with hotel chains, restaurants, and other commercial facilities. For more information about TigerChef products contact Stacey(at)tigerchef(dot)com or call 877-928.4437.