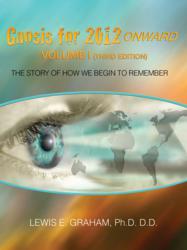 "The GNOSIS series provides a different view than the mass-market version of human history," said Dr. Graham.
NEW YORK (PRWEB) November 01, 2012
Gnosis In The Turning Of The Ages Publishing is proud to announce the release of Gnosis for 2012 Onward, by Lewis E. Graham, Ph.D., D.D. – an extraordinary study of human history and potential, bringing clarity to the riddle of December 2012 and beyond. Gnosis for 2012 Onward is a three-volume series available through Amazon.com, Barnes & Noble and all Internet booksellers.
Gnosis for 2012 Onward is an in-depth, factual and well-researched resource on advanced prehistoric culture and the prophecies of the ancient Maya. Presented from an unbiased, non-religious point of view, the GNOSIS series dispels common misunderstandings about the significance of 21 December 2012 and offers a compelling theory of what the future holds for humankind, based on the historic patterns of our world and the authentic significance of the looming winter solstice, which has been widely misconstrued.
"The GNOSIS series provides a different view than the mass-market version of human history. It succinctly explains clear and fact-based counterviews to the ideas conveyed by consensus-seeking, orthodox scholars," said Dr. Graham. "GNOSIS is a beacon to anyone who is willing to open the mind to an alternate view. I invite readers to consider this version of the world's history in order to activate their own, failsafe capacity for inner knowing. The Greeks called this Gnosis – hence, the series' title. Volume III in the series provides self-directed, transformational tools to boost this innate capacity for each person who chooses to use them."
Dr. Graham was honored as the Author of the Month for October on the official website of best-selling author Graham Hancock. Additionally, the GNOSIS series has received international acclaim:
"A Gnostic tour-de-force… Dr. Graham's work provides an excellent resource that contains most, if not all, of the key points about the more obscure aspects of our past," said Mark Grant, Author of A Tale of Two Synchronicities.
"Of all the many and varied iterations of what 2012 means for us, look at this one. Dr. Graham has contributed a thorough and smart explanation of where we came from, where we are and where we are going. It's beautiful to look at and beautifully told," said Viki King, Author of How to Write a Movie in 21 Days - The Inner Movie Method and Feelization (Malibu, California).
"People have been so impressed with the scholarly endeavour behind the GNOSIS series, but more importantly, with the manner in which Lew is able to take extremely complex theories and ideas and make sense of them for the reader," said Dr. Niall McElwee, Managing Director, Book Hub Publishing (Galway, Ireland).
About the Author
Lewis E. Graham, Ph.D., D.D., earned a B.S. degree in Psychology from Virginia Commonwealth University and an M.S. from the University of Georgia, where he also was awarded a Ph.D. degree in Clinical Psychology with a co-major in Psychophysiology —the result of his leading-edge interest in the mind-body connection.
After graduation, Dr. Graham pursued a three-year post-doctoral training curriculum as a U.S. Public Health Service Fellow and served as an adjunct faculty member at the Stanford University School of Medicine, Department of Medicine. In 1981 he was granted a completion certificate in Epidemiology, Biostatistics, and Behavioral (Preventive) Medicine before entering a business career. Having been a marathoner and amateur triathlete at Stanford, he competed in the World Championship Triathlon in Nice, France in 1983. He also undertook community service as a Planning Commissioner who was later elected to the City Council in Brisbane, California, with one term as Mayor.
Starting in 1987, Dr. Graham began a 13-year program of divinity studies. Ultimately he was ordained as a minister by both the Temple of Knowledge and the Huna Heiau, which also awarded him its Doctorate of Divinity degree (D.D.) in 2001 after years of dedicated learning and wide-ranging Gnostic immersion.
Dr. Graham's esoteric learning and his in-depth exposure to multiple areas of orthodox research have been unique assets in the GNOSIS series. He has applied both areas of knowledge in a novel, compelling fusion of science and spirituality.