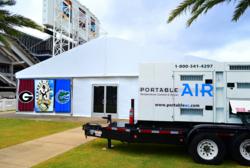 Cocoa, FL (PRWEB) November 02, 2012
Portable Air, a premier provider of generators, portable air conditioning and many more solutions for special events, recently announced that it completed an order for Jacksonville's Office of Special Events by providing one of its largest tents with portable air conditioning units for the GA/FL Tailgate Party hosted by The Georgia Bulldog Club of Jacksonville.
On the Saturday before the October 27th Georgia vs. Florida Football Classic, Gator and Bulldog fans gathered in Metropolitan Park for a BBQ Tailgate Party. The tailgate party featured UGA Pep Band, UGA Georgettes, UGA Cheerleaders, Hairy Dawg and live entertainment by the River Band.
"We were excited to provide five 20 Ton Vertical units with our Generator to keep their tent & guests comfortable with portable air conditioning units for the Office of Special Events City of Jacksonville," said Dan Camp, General Manager of Portable Air. "We look forward to providing quality cooling, heating and special event products for many special events in Jacksonville in the future."
Portable Air was also on hand when The Jacksonville Sports and Entertainment Office created the Georgia-Florida Hall of Fame to acknowledge the many great achievements and traditions at the 17th Annual Ruth's Chris Steak House GA/FL Hall of Fame Induction Ceremony on Friday, October 26th. Portable Air was honored to provide their air conditioned tent for the appreciation of the nation's premier collegiate rivalry.
From their generators and power distribution equipment to their HVAC units, Portable Air offers only the best high-end equipment and service in the marketplace. The company provides cabling, generators, spot coolers, tents and more for weddings, sporting events, conventions, trade shows, festivals and numerous other special events.
Additionally, Portable Air provides a wide variety of cooling, heating and environmental products for industrial and commercial customers. For complete information about all Portable Air products and services, visit their website at http://www.portableac.com or call 1-(800)-341-4297 to speak with one of their special event rental coordinators.
About the company:
Since 1987 Portable Air has been responding to the needs of businesses, government agencies, and special event planners for their temporary requirements of air conditioning, heat and power generation. We are expanding our product line and provide our customers the most complete air quality control program available from one source. Let Portable Air find the solution to your temporary needs. For more information, please visit their website at http://www.portableac.com.