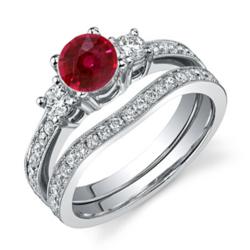 Customers can find affordable gemstone rings featuring all major gemstones such as garnet, ruby, sapphire, peridot, pearl and more at JewelOcean
Baltimore, MD (PRWEB) November 03, 2012
Gemstone rings make the world of jewelry much more elegant, colorful, and diverse. The brilliant colors of the gemstones add to the woman's overall look and attract admiring attention from passers-by. JewelOcean has introduced a new line of cheap gemstone rings, adding to the varied colors of their beautiful collection.
JewelOcean's gemstone rings are made only with real gemstones and come in an assortment of colors, shapes, and sizes. Sizes 4.5 to 9 are always available on the company's website, but if a different size is requested, it can likely be arranged. Customers are constantly pleased on JewelOcean.com, as the gemstone rings include amethyst, aquamarine, citrine, diamond, emerald, garnet, pearl, peridot, ruby, sapphire, and topaz. These unique gemstones can be mounted on white, yellow or rose gold, as well as sterling silver bands.
JewelOcean specifically offers rings for each unique style, and with all of the different tastes out there, anyone is sure to love and appreciate gemstone engagement rings from JewelOcean. The styles vary from heart shaped rings to bold, circular designs to elegant flower patterns. The bands come in white, yellow or rose gold, in addition to sterling silver. A gemstone mounted on 10k or 18k gold will always look tremendous on any woman. These rings can also be customized, with an engraved message on the gemstone ring. If a customer opts to get the ring engraved, it is still very cheap, with only a minimal engraving fee. It is worth the price to a message permanently engraved for a loved one to treasure forever.
Customers can always find the perfect combination of color and design to suit their lover's favorite style. Not only can the customer find the perfect gemstone ring, but they can find it at discount prices! JewelOcean offers cheap gemstone rings in a large price range, from $139 to $3,900. Depending on the individual's budget, JewelOcean will provide a beautiful ring for the perfect price. The new line of gemstone engagement rings has several closeout sales taking place, as well as layaway options available for the customer's convenience.
Customer satisfaction is extremely important to the workers at JewelOcean, which is why there are several company guarantees for every customer. JewelOcean guarantees speed delivery, 24/7 customer support, and a 30 day refund policy. Couples can purchase gorgeous gemstone engagement rings from JewelOcean.com and not have to worry about a thing!
JewelOcean, an online jewelry provider, specializes in brilliant gemstone rings to add more color to their world of wedding rings. The company's gemstone rings come in various colors, sizes, and styles to suit the customer's needs, as well as their partner's favorite taste. JewelOcean's guaranteed lowest prices allow couples to purchase beautiful engagement rings for a price within their budget. There is more information about the new line of cheap gemstone rings at JewelOcean.com.