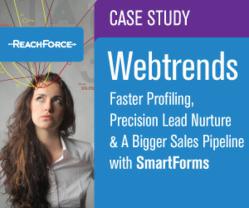 SmartForms not only works with progressive profiling -- it enhances it.
Orlando, FL (PRWEB) November 06, 2012
Progressive profiling is a demand generation best practice showing improvement in data completion and sales results with the integration of ReachForce SmartForms. A case study showing business gains achieved by web analytics leader Webtrends after implementing the solution is being released today at the Eloqua Experience in Orlando, FL.
Webtrends is now able collect all necessary B2B marketing data and complete the entire progressive profile for each web site visitor – previously a 3-week process – in just one day with SmartForms real-time data appending.
SmartForms allowed other significant business improvements for Webtrends:
● Dramatically scaled drip and lead nurturing campaigns
● Shortened average response to SQL time by 2 weeks
● Improved quality of sales leads, allowing sales reps to focus on purchase-ready leads for better productivity
● SmartForms enabled the company to deliver ungated content to new site visitors, for faster and deeper engagement
● Increased sales pipeline 40% per quarter since SmartForms implementation
"It's our preference to get information about leads without asking them directly. However, we needed a more automated, streamlined way of appending data to our records," said Myllisa Patterson, Senior Marketing Operations Manager, Webtrends.
"With SmartForms, we quickly know who is a good candidate for a drip or nurturing campaign and have scaled these programs dramatically. Plus we have a much clearer understanding of the content these people are interested in, so we can more intelligently drip and nurture," Patterson explained.
SmartForms is designed to accelerate lead generation from any web form, on any web page. It works with any CRM and any marketing automation system. SmartForms were integrated into Webtrends' Eloqua marketing automation system, and the solution has also been integrated into other SmartForm clients' progressive profiling with Marketo and Pardot. Implementation is straightforward and requires only basic technical knowledge. Additionally, ReachForce provides dedicated customer support to ensure implementation success.
"SmartForms not only works with progressive profiling, it enhances it," said Andrew Glikman, Customer Success & Implementation Manager for ReachForce. "We have several customers deploying SmartForms using progressive profiling. It's easy to do in all of the marketing automation systems. The great part is our customers get all of the company firmographics from us on the first pass."
ABOUT REACHFORCE:
ReachForce delivers cloud-based software and B2B marketing data services accelerating lead generation conversions from inbound, outbound, and database marketing initiatives. Over 400 leading companies including Dassault Systems, GXS, Marketo, ReadyTalk, and TripAdvisor use ReachForce to optimize their lead scoring, nurturing, targeting and routing; to improve their return on investment in marketing automation systems and to increase revenue and results. For more information on marketing data strategies, visit our site at http://www.reachforce.com, our blog at http://blog.reachforce.com.