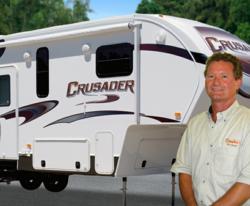 We are very excited with the introduction of all 5 product lines that Prime Time Manufacturing produces.
Myrtle Station, Ontario (PRWEB) November 02, 2012
Campkin's RV Centre, Myrtle Station, Ontario, is very excited to announce the partnership with Prime Time Manufacturing, a Forest River Division and a Berkshire Hathaway Company.
Brad Campkin, owner of Campkin's RV, stated "We are very excited with the introduction of all 5 product lines that Prime Time Manufacturing produces. We believe these products will truly bring a value that separates us from all other RV Brands in the market."
Headquartered in Wakarusa, Indiana, Prime Time Manufacturing proudly builds a full line of towable RV products including travel trailers, fifth wheels, and ultra-light travel trailers. As a division of Forest River, Inc. – North America's largest manufacturer of towable recreational products and a Berkshire Hathaway Company – Prime Time has unmatched purchasing power that ensures the highest value with every unit we build.
Prime Time Manufacturing has a product and a price for every RV enthusiast. Five different product lines that offer everything you need at a price you have budgeted for:
The Avenger line is for both the first-time buyer and seasoned camping veteran; the value-conscious Avenger often represents a customer's first experience with a recreational vehicle from Prime Time Manufacturing. Since first impressions are critical, Avenger combines comfort, convenience, and style with the industry's highest standard of quality and construction.
The Tracer line is for the consumer who is looking for ultra-light weights, but doesn't want to sacrifice style, comfort, and convenience. The extra deep slide Executive Series offers wide open, spacious layouts that are often thousands of pounds lighter than traditional floor plans. An RV you can easily tow with a mini van or today's smaller Crossover vehicle, The Micro Series has you covered. The Tracer Ultra Lite offers an unbeatable combination of light weights, value, and great looks.
The LaCrosse redefines value to include the very best in price and quality but without sacrificing luxury, comfort, and convenience. As you enter LaCrosse, you will notice the attention to even the finest detail that creates an RV loaded with convenience, unmatched storage, residential appeal, and comfort normally found only on units costing thousands more.
The Crusader engineer team has thrown caution to the wind and has engaged in serious "outside the box" thinking. When challenged to think beyond the status quo and reach for product innovations not currently offered, they said we'll "Make Crusader a new icon for the 21st century." Needless to say, they took the challenge to heart.
The Sanibel – a luxury fifth wheel built with a level of Intelligence that far exceeds the status quo. Whether you are examining construction, design, features, or eye appeal, Sanibel has been carefully crafted to provide the highest level of owner satisfaction.
Campkin also says that "since 1973 we have been a leader in southern Ontario in making sure we offer only premium Brands making sure our customers get the absolute best value."
Campkin's RV Centre has been providing the camping and RV'ing enthusiast with quality products and service since 1973. Campkin's RV has a thorough website that lists all the RVs currently for sale on the lot complete with pricing, features, floor plans, pictures, audio and video. We also have a presence on YouTube, Facebook and Twitter for promoting all our news and events as well as a mobile website that incorporates our RV Parts Store. Campkin's RV has it's own iTunes APP and is a regular YELP contributer.