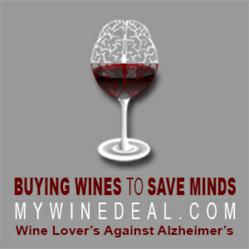 Petaluma, CA (PRWEB) November 05, 2012
November is Alzheimer's Disease Awareness month and MyWineDeal.com is donating $1 from each sale to help fund Alzheimer's research and support programs.
For the founder of MyWineDeal, Joe Pellar, the fight to find a cure to Alzheimer's is personal. He lost his grandmother to the disease. "It's a cause close to my heart. I hope that this will help get us one step closer to finding a cure," said Pellar.
Studies show that a natural compound found in red wine may help combat the disease. Resvertrol, found in the skin of red grapes, is believed to protect the body and brain from aging. Aging being the greatest risk factor in Alzheimer's.
Along with the $1 donation from each sale, you can make an additional donation on the site. You should stock up on wine at MyWineDeal.com for the upcoming holiday season. 'Wine' not? It is for a great cause.
MyWineDeal's mission is to provide access for you to discover new wines at affordable prices. They offer different deals on unique wines each week. MyWineDeal is a small family owned and operated business based out of Petaluma, California. Visit: http://www.mywinedeal.com.
To learn more about Alzheimer's disease go to http://www.alz.org.