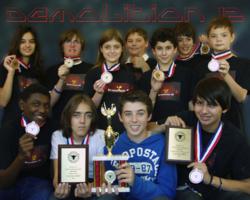 "It's refreshing to see our students doing what they do best and applying their skills to real world projects and situations."
Southlake, TX (PRWEB) November 03, 2012
The Clariden School of Southlake, Texas, with its new private school middle and high school program won third place overall in their first ever BEST Robotics Competition this past Saturday, October 27. The competition was part of their STEM project.
Eighteen middle- and high-school teams from across the area competed for entry in the Texas BEST (Boosting Engineering, Science, and Technology) Regional Robotics event. Judging was based on engineering notebooks, multimedia marketing campaigns, booth displays, interviews with judges, robot designs and ability, and team spirit.
BEST Robotics introduces students to engineering, problem-solving and teamwork; a chance at experiencing what it's like to work in science, technology, engineering and mathematics (STEM) careers. Each fall, more than 750 middle and high schools and over 11,000 students participate in the competition.
According to Clariden Head of School Jenifer Fox, "While The Clariden School is not about winning, the reality is for the past six weeks, students have been hard at work and this recognition validates the rigor and excellence of our program. We aren't playing with toys; we are competing with students much more seasoned and experienced and coming out as a recognizable force."
The robotics competition is a natural fit for The Clariden School's project-based Global Strengths program, in which middle and high-school students learn to analyze and solve problems using methods that incorporate individual preference while teaching teamwork and cooperation; skills that the 21st industry seeks in its workforce.
"Global Strengths moves away from the educational model which uses school test scores as indicators of achievement. Today's students must learn the realities of global business and how to follow their personal strengths," said Fox. "Our curriculum cultivates inventors and creative risk takers, rather than rewarding compliance," she said.
According to parent Tyler Kuelbs, "This program has been a perfect fit for our son. Never before has he enjoyed going to school. In a state where our schools not only rely on standardized testing to rank a child, but are also centered around athletics, it's refreshing to see our students doing what they do best and applying their skills to real world projects and situations. And the BEST Robotic Competition was just as exciting to watch as any football game I've been to!"
"We are so proud of the Global Strengths students and their families! Thanks to everyone who came out to the BEST competition," said Fox.
For more information on The Clariden School, Global Strengths or the Best Competition, please contact the school at 682-237-0400 or visit http://www.claridenschool.org.