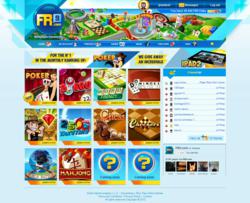 We want to increase user engagement by taking it a step further and connecting the users with each other. We keep enhancing the community by adding new features and hope to drive the success of our gaming initiatives globally.
Barcelona, Spain (PRWEB) November 15, 2012
World Internet Projects, a developer of casual games, launches FR9 internationally after experiencing great success with FR9.es in Spain.
FR9.com offers users a new multiplayer platform. The new gaming website utilizes a cutting edge online multiplayer community in order to increase interaction and connection among players. Users can play, chat and compete with other users all over the world. Players on FR9.com are even eligible to win monthly prizes by improving their position in the rankings.
FR9.com is already attracting 1.5 million players monthly, proving to be a leading destination for gamers to connect, socialize and play with others on the internet. Users will also be able to take advantage of social sharing through Facebook Connect for FR9.com, where gamers can post accomplishments and rewards.
"We are very excited about the launch of this new multiplayer social gaming platform. We want to take user engagement a step further by connecting the users with each other, opening the door to a new level of gaming. With the inclusion of multiple features we have created a user friendly experience on FR9.com. Today, online casual games are an increasingly important part of how people interact and stay connected with each other. Therefore, we strive to make social sharing form a large part of our focus," Amado Martin, CEO and founder of World Internet Projects, said.
World Internet Projects aims to make FR9.com a gaming universe for the player. Looking to always improve the experience for the user, World Internet Projects recently worked to have a new game released every month for FR9.com.
While already proving to be a success, FR9.com will soon be offering advanced features such as virtual goods and premium accounts, which offer higher exclusivity. An Avatar store will also be implemented into the multiplayer platform, giving the user the ability to distinguish oneself with the option to customize one's own avatar.
"We hope to drive the success of our social gaming initiatives globally and continuously keep improving and upgrading our games and other features to enhance the community. We are confident we will reach our goal in becoming a leading destination for social gaming all over the world and creating a universe where the player wants to stay and explore," Amado said.
Gamers 16 and older can sign up for this free-to-play online multiplayer community.
About World Internet Projects:
World Internet Projects' goal is to provide the best games anytime, anywhere. With over 25 million gamers visiting their various sites a month, they prove to be a leading company in the creation of online multiplayer games in four languages. World Internet Projects also specialize in White Label Solutions, a dynamic social networking platform (API) that can be incorporated into any existing website or domain. World Internet Projects has four offices in Barcelona, Chile and Uruguay.