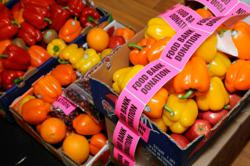 "We are very grateful to the Fresh Summit exhibitors and PMA for this fresh produce which will be a very welcome addition to the dinner tables of the needy in Southern California."
(PRWEB) November 05, 2012
Produce suppliers from across the United States and around the world donated an estimated 231,165 pounds of fresh fruit and vegetables to the Second Harvest Food Bank of Orange County on Oct. 28. The donation was made by companies exhibiting at the Produce Marketing Association's (PMA) 2012 Fresh Summit International Convention and Exposition, held at the Anaheim Convention Center Oct. 26-28.
The donation by hundreds of Fresh Summit exhibitors, "harvested" from the convention center by local volunteers, is so large that the Second Harvest Food Bank of Orange County is sharing product with other Feeding America members nearby in southern California.
"Fresh Summit exhibitors' giving spirit is especially heightened in an economy when so many Americans don't have access to fresh fruits and vegetables," said Bryan Silbermann, PMA's president and CEO. "The opportunity to feed local residents with fresh, nutritious product makes them and us even more proud of what we do."
"The demand for food has increased by 46 percent since the recession and this generous gift couldn't come at a better time," said Nicole Suydam, CEO of Second Harvest Food Bank of Orange County. "We are very grateful to the Fresh Summit exhibitors and PMA for this fresh produce which will be a very welcome addition to the dinner tables of the needy in Southern California."
According to Feeding America, one in six Americans is at risk of hunger.
"Feeding America is extremely grateful to PMA's exhibitors for their generous contribution to the Second Harvest Food Bank of Orange County," said Bill Thomas, chief supply chain officer of Feeding America. "The U.S. Department of Agriculture recently reported on food insecurity in the United States in 2011, noting that 1 in 5 households with children were food insecure. Food insecurity is defined as having difficulty at some point in the year providing enough food for all household members due to a lack of resources."
From 2007-2011, PMA's Fresh Summit exhibitors have donated more than 1.4 million pounds of fresh produce to communities in need in the United States. The last time Fresh Summit was held in Anaheim, in 2009, exhibitors donated nearly 250,000 pounds of produce. Exhibitors literally donate the cream of their crops, which have been on display at Fresh Summit; the event is one of the 100 largest trade shows in the United States, drawing more than 21,000 attendees from 61 countries.
About Produce Marketing Association (PMA)
Produce Marketing Association is the leading trade association representing companies from every segment of the global produce and floral supply chain. PMA helps members grow by providing business solutions that expand business opportunities and increase sales and consumption. For more information, visit http://www.pma.com.
About Second Harvest Food Bank of Orange County
Second Harvest Food Bank of Orange County is working to eliminate hunger in Orange County. Through a network of more than 470 local member nonprofits, the Food Bank distributed 18 million pounds of nutritious food to our neighbors last year. Learn more about Second Harvest Food Bank's work in the community – and how you can help – at http://www.FeedOC.org.
About Feeding America
Feeding America provides low-income individuals and families with the fuel to survive and even thrive. As the nation's leading domestic hunger-relief charity, our network members supply food to more than 37 million Americans each year, including 14 million children and 3 million seniors. Serving the entire United States, more than 200 member food banks support 61,000 agencies that address hunger in all of its forms. For more information on how you can fight hunger in your community and across the country, visit http://www.feedingamerica.org. Find us on Facebook at facebook.com/FeedingAmerica or follow our news on Twitter at twitter.com/FeedingAmerica.
###
Contact: Meg Miller, mmiller(at)pma(dot)com, +1 (302) 738-7100, ext. 3031