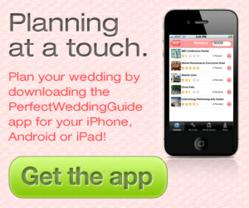 (PRWEB) November 05, 2012
Perfect Wedding Guide recently added few upgrades to its popular wedding planning iPhone app and introduces a new iPad app.
"Our users gave us lots of great feedback to help improve the performance of the iPhone app. We also took that feedback to develop our iPad app as well," says Rick Caldwell, VP of Technology. "The initial version had quite a number of steps for task completion. We wanted to reduce this, as most brides-to-be have busy lives. The process of planning a wedding on a mobile device should be as effortless as possible."
The original iPhone app received a quite launch in August of this year, as developers completed usability testing for optimal usage. The release includes the following features, many of which incorporate location-based services to easily locate relevant wedding resources nearby:
Budget manager
Checklist
Guest manager
Vendor search
Deals search
Bridal show search
The upgrade release, version 1.1, focuses on performance improvements as well updates to the bridal show checkout process. For select bridal shows, users will be able to register and securely pay for shows using a major credit card.
The free Perfect Wedding Guide Android app is now available for download on PerfectWeddingGuide.com.
Click here now to download the new Perfect Wedding Guide Android App.
About Perfect Wedding Guide:
For over 20 years, Perfect Wedding Guide has been dedicated to creating modern and stylish wedding planning solutions for brides of all budgets. Our company offers couples a number of FREE planning products to help brides and grooms focus more on their big day and stress less about their budgets. Our local guides and bridal shows are available coast-to-coast in over 60 markets nationwide, showcasing some of the country's top wedding professionals who work right in their client's backyards. Our national Website, PerfectWeddingGuide.com, includes an array of resources to glean inspiration—from fresh planning tips and ideas to an extensive photo gallery of wedding fashion to easy-to-use wedding planning tools, and even a daily wedding blog hosted by our national wedding planning expert. For more information on our products, services and advertising opportunities, visit http://www.PerfectWeddingGuide.com