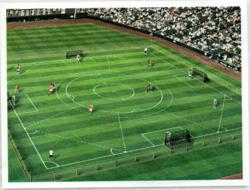 Iso-soccer is exciting to play and provides a fun way to exercise and develop skill... Iso-soccer leagues offer a positive outlet for youth and opportunity to pursue careers in sport.
Dallas, TX (PRWEB) November 02, 2012
Iso-soccer is designed for the 21st century athlete and sports fan. The sport is played on a 40 X 40 yard court with four goalposts and a 4ft-high boundary fence. The ball is kicked, as in soccer; however, two teams of six players each take turns playing defense or offense in each of the two five-minute terms per quarter. Goals are worth 1, 2, 3, 4 or 5 points depending on which part of the court they are scored from, and for every minute the defense team does not concede a goal, they gain points, increasing from 1 to 5 points per minute. Furthermore, the defense team can score a "Takeover" when a defense player is able to enter the core zone or center circle with the ball. A takeover is worth 5 points and is similar to a touchdown in American football.
Iso-soccer is exciting to play and provides a fun way to exercise and develop skill. The Iso-Soccer Youth Exhibition is the first in a series of games designed to formally introduce Iso-soccer to the general public. It will feature talented male and female youth Iso-soccer players from various cities in the Dallas - Fort Worth metro. This is a fun event that will offer sports fans, city officials and various stakeholders and decision makers an opportunity to experience the excitement of Iso-soccer for the first time. Furthermore, the event will be informative for those interested in participating in or hosting upcoming Iso-soccer youth leagues and programs in 2013 as well as organizations interested in enriching their current sports offering with an Iso-soccer program.
Sports participation is a positive outlet for most youth and has been a path to a college education and a respectable career for many. A few have attained notoriety and riches through sports. Yet, there are still millions of talented athletes all over the world who have slipped through the cracks, untouched by the power of sport. For those, Iso-soccer offers a viable alternative. Various competitive and recreational Iso-soccer programs including youth, semi-pro and professional leagues offer a positive outlet for youth as well as the opportunity to pursue careers in sport.
Iso-soccer is being launched by Isosports International, Inc; a sports, media and entertainment company based in Dallas, Texas with a mission to pioneer the development of cutting edge 21st century sports and entertainment systems. For more about Iso-soccer and the Iso-Soccer Youth Exhibition game, visit the website http://isosoccer.com.