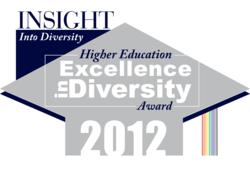 St. Louis, MO (PRWEB) November 13, 2012
NSIGHT Into Diversity magazine, the oldest and largest diversity-focused publication in higher education, announced today the 48 recipients of its first annual Higher Education Excellence in Diversity (HEED) award. Winners of the HEED award—a national award honoring U.S. colleges and universities that demonstrate an outstanding commitment to diversity and inclusion—will be featured in the publication's December 2012 issue.
Recipients of the HEED award are:
Alcorn State University
Alliant International University
Capital Community College
Case Western Reserve University
Catawba Valley Community College
Davenport University
Delta College
East Carolina University
Ferris State University
Gadsden State Community College
Georgia State University
Hodges University
Indiana University-Purdue University Indianapolis
Louisiana State University
Marshall University
Michigan State University
Michigan Technological University
Millersville University
Moraine Valley Community College
New Mexico State University
Oklahoma State University
Pensacola State College
Phoenix College
Raritan Valley Community College
Southern Illinois University, Carbondale
Southwestern Law School
St. Cloud State University
SUNY System
Texas Tech University
The College at Brockport, SUNY
Trident Technical College
Tufts University School of Dental Medicine
United States Air Force Academy
University of Akron
University of California, San Francisco
University of California, Santa Barbara
University of Central Florida
University of Cincinnati
University of Minnesota
University of North Texas
University of South Carolina
University of Texas at Austin
University of the Rockies
University of Virginia
Virginia Commonwealth University
Wake Forest University
Western Oregon University
William Mitchell College of Law
"We hope the HEED award serves as a reminder that diversity and inclusion must remain priorities in the 21st century higher education landscape. Every college and university should recognize the importance of diversity and inclusion as being part of their everyday life on campus," said Lenore Pearlstein, publisher of INSIGHT Into Diversity magazine. "Our students of today are the employees of tomorrow and the future of our country. As students begin to enter the workforce and a global society, they must first be surrounded by and supported by faculty and staff that understand the differences among cultures and their needs."
The HEED award recipients were selected based on their institution's exemplary diversity and inclusion initiatives, and include all aspects of diversity including gender, race, ethnicity, veterans, people with disabilities, and members of the LGBT community.
A call for applications of the inaugural HEED award was announced in March 2012. Award recipients include community colleges; public and private schools, large and small; graduate and professional schools; and one school system. Applicants received a comprehensive assessment to determine each institution's level of success with regard to diversity and inclusion among its students, suppliers, faculty, and administrative staffs.
For more information about the HEED award, visit http://www.insightintodiversity.com/heed-award or to learn more about INSIGHT Into Diversity, visit http://www.insightintodiversity.com. Applications for the 2013 HEED award will be available April1, 2013.
About INSIGHT Into Diversity
INSIGHT Into Diversity is the oldest and largest diversity magazine and website in higher education today. For nearly 40 years, INSIGHT Into Diversity has been connecting employees with institutions and businesses that embrace a workforce that is reflective of the world around us. Our decades of experience in recruiting employees from all underrepresented groups has earned us a reputation in higher education, business, and government for finding the most dynamic talent in every field. INSIGHT Into Diversity successfully connects employers to the most highly qualified individuals regardless of race, color, national origin, religion, gender, age, disability, medical condition or history, veteran status, gender identity or expression, or sexual orientation.