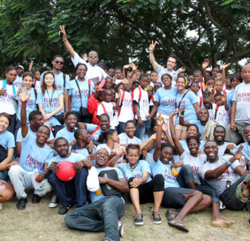 Port Au Prince, Haiti (PRWEB) November 01, 2012
On September 29, 2012 nonprofit organization Fleur De Vie held its very first Back to School Recreational day. The event which took place in Port Au Prince, Haiti was the project of its kind launched by Fleur De Vie, who works alongside struggling nonprofit organization with the mission of creating community-level social change.
Attending the event were 500 Haitian school children, who participated in the event and contributed largely to its success and high turnout. In addition to the children were a dedicated group of 85 community volunteers who assisted in the program in numerous ways throughout the day-long event. At the center of the day's themes were increasing both health and education awareness among the youth of Haiti.
Also present at the event was a Boston, MA area leather manufacturer, Hawtan Leathers, whose 100-employee manufacturing facility has long been a staple of strength within the Haitian workforce. Daniel A. Gallagher, owner of Hawtan Leathers understands the role that both his business and initiatives like the Back to School Recreational Day plays in helping rebuild the recovering Haitian economy.
The event was held in Tabarre at the Sun Auto location, where the almost 500 students were transported with help from the Fleur De Vie and National Transport Services. Stemming from the day's theme of promoting health and education were activities like free basic health screenings, dental examinations, and eye exams all provided by generous doctors and nurses. There were also physical activities aimed at letting participants experience the benefits of physical activity and teamwork while being entertained by the music of Haitian musician DJ Klassick.
Hawtan Leathers remains optimistic about their involvement in upcoming humanitarian efforts in Haiti and looks forward to participating in events like the one put together by Fleur De Vie. As the Haitian economy continues to rebuild itself after the setback caused by the 2010 earthquake, Daniel Gallagher and Hawtan realizes now, more than ever, the importance of a strong, healthy and well educated Haitian workforce.